This week, despite (or even because of) its floundering reputation, the Oscars mattered, perhaps more than ever before. By dispensing/accepting the resignation of Brett Ratner as producer of the 2012 ceremony, the Academy of Motion Picture Arts and Sciences did more than send a message about the entertainment industry's zero tolerance for hate speech. It also brought Ratner the comeuppance he deserves — probably as a human being, but certainly as a filmmaker. This moment has been a long time coming and serves a purpose beyond the Ratner pile-on it invites, driving home the point that movies naturally reflect their makers.
Last week, I complained that "Tower Heist," Ratner's latest studio effort, sacrificed coherent storytelling for a passable imitation of slick Hollywood entertainment. I would level that complaint at virtually everything Ratner has made, including "Rush Hour" (which owes more to the ingenious pairing of Jackie Chan and Chris Tucker than any single well-directed sequence, of which few exist).
Like his public demeanor, Ratner's movies routinely suck — if not objectively, then something close to it. The flashes of effective moments, usually involving some fleeting visual gag or action stunt, occur with the irregular pattern of happy accidents. There's no detectable passion in Ratner's work, no sense that he really cares about the final result, just like the deplorable tone of his throwaway line at a recent "Tower Heist" Q&A when he declared that rehearsing with actors was for "faggots." The man and the movies are not mutually exclusive.
Which brings us to Lars von Trier, whose masterful "Melancholia" finally hits theaters this weekend after a successful festival run. An eccentric egomaniac fixated on bizarre, assaultive provocations, von Trier makes deeply personal work in much the same way that Ratner never does. "Melancholia" marks the pinnacle of this tendency in the Danish filmmaker's career, with the downright gorgeous allegory of a doomsday scenario representing the uniquely human experience of inner turmoil.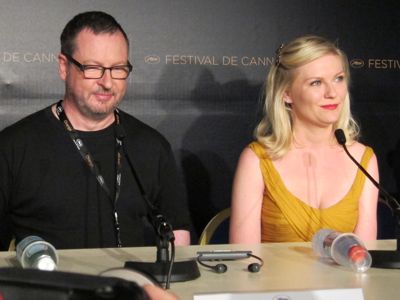 Von Trier's own foolish snafu at Cannes, where he made dumb remarks about Nazis and Hitler, devolved into a landslide of bad publicity for both the director and his movie that didn't end when Cannes declared him "persona non grata" the next day. Months later, interrogated by French police about the possibility that his remarks constituted a criminal offense, von Trier issued a statement declaring that he would never conduct interviews again.
Unlike Ratner, von Trier's movies come from a place of legitimate creative inspiration. As J. Hoberman said in Indiewire's Critical Consensus column this week, when von Trier reconsidered his words, "he was embarrassed for himself." More than that, he was embarrassed for his movie, which brought clarity to his unstable mindset in a manner he could never verbalize.
Whether the camera merely records reality or some manipulated version of it is an open-ended question, but Ratner and von Trier's respective screw-ups inch the argument toward the second possibility. Whether it comes from an individual or a commercial institution, movies present a world that must be created; it follows that one can find the seeds of creation within the product.
Anyone familiar with von Trier's career knows that his foolish statements didn't come out of left field, but that they destroyed his world — or at least his pre-Cannes version of it — and thereby mirrored the apocalyptic climax of "Melancholia." The movie contained such a charged personal component that it exploded into the real world via its unstable director.
Ratner's questionable talent always inhabited a rickety house in the Hollywood machine, albeit one with many rooms. And now it has finally collapsed. Time will tell whether Ratner manages to pick up the pieces and start anew or go back to making the same forgettable product that made him rich. But don't look for his tell-all interview to get the final word; the movies say enough.
Sign Up: Stay on top of the latest breaking film and TV news! Sign up for our Email Newsletters here.