Roman Polanski's "Carnage" was the top debut at the specialty box office this weekend, according to estimates provided by Rentrak earlier today. The film, based on the play by Yasmina Reza, stars Kate Winslet, Jodie Foster, John C. Reilly and Christoph Waltz as two sets of parents who meet up to talk after their children have been in a fight that day in the park. Distributed by Sony Pictures Classics, it opened on 5 screens this weekend to a $85,696 gross, averaging $17,139.
Considering the crowded marketplace, that's a respectable gross. Though it fails in comparison to Polanski's last effort, "The Ghost Writer," which debuted to a $45,752 average (from 4 screens) last February. That film went on to gross $15,541,549.
Also debuting was Alex Stapleton's doc "Corman's World: Exploits of a Hollywood Rebel." Distributed by Anchor Bay, the film grossed $7,000 from 2 screens for a $3,500 average.
The biggest story of the specialty box office this weekend, though, remained Focus Features' "Tinker, Tailor, Soldier, Spy." In its second weekend, Tomas Alfredson's UK spy thriller went from 4 to 16 screens and saw a 46% rise in grosses. It took in $452,278, averaging $28,267.
Starring Gary Oldman, Colin Firth, Tom Hardy and John Hurt, the well-reviewed film has not received many notices from awards season so far, getting shut out of the Golden Globe and SAG nominations. But it doesn't seem to have hurt the film at all, which has now totalled $851,842 after 10 days of very limited release.
Its per-theater-average surpasses the benchmarks previously set for a film released in 4 houses its first week followed by an expansion into 16 to 18 houses in its second. Previously, "Sideways" ranked #1 with $25,288.00 for its weekend 2 average in 16 theaters; "The Wrestler" ranked #2 with $21,529.00 weekend 2 average in 18 theaters (achieved over Xmas holiday weekend).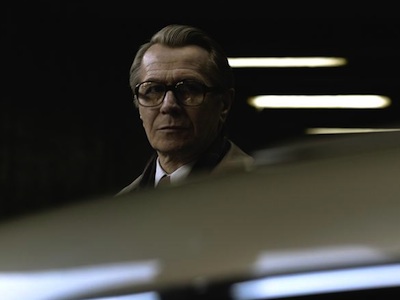 "All of these 2nd weekend results confirm the film is sustaining its popular and BO momentum, despite the increasing competition in both the commercial and specialized market sectors," Focus Features said today. "The 2nd day of box office in all of the new markets confirms that there's an avid adult audience and a demand for the film (as is the case in NY and LA); this bodes well for expansion as the film rolls out and adds new markets. Positive word-of-mouth and critical acclaim continue to be key drivers to this success."
Not faring so well in its second weekend was Jason Reitman's dark comedy "Young Adult." Paramount expanded the film wide from 8 to 986 screens and found a $3.65 million gross. That amounted to a weak $3,702 average for the film, which stars Charlize Theron as an alcoholic teen fiction writer who comes back to her hometown to wreck havoc.
The film's total now stands at $4,089,924. Its highly unlikely the film will even approach the final grosses of any of Reitman's previous outings. "Thank You For Smoking" grossed $24.8 million in 2006; "Juno" made $143.5 million in 2007; "Up In The Air" took in $83.8 million in 2009.
Steve McQueen's "Shame" expanded from 21 to 51 screens in its third weekend for Fox Searchlight. The NC-17 rated film starring Michael Fassbender and Carey Mulligan grossed $305,000 as a result, averaging $5,980. The film has now totaled a decent $1,229,041, making it only the 13th NC-17 rated film to gross over $1 million dollars. Accolades for Fassbender's performance should help it as it continues to expand, and it has a strong chance of joining the 4 other NC-17 rated films to gross north of $5 million.
"Shame"'s fellow Searchlight release – Alexander Payne's "The Descendants" – started to slow after 4 weekends of very strong numbers. Expanding slightly to 878 screens (up from 876), the film grossed $3,350,000 over the weekend, dropping 24%. That gave the film, starring George Clooney as a Hawaii land baron, a $3,815 average and a very admirable new total gross of $28,727,552.
"My Week With Marilyn," which stars Michelle Williams in a heavily Oscar-buzzed role as Marilyn Monroe (she received SAG and Golden Globe noms this past week) marked one of two major releases from The Weinstein Company heading into their fourth frames. Holding steady on 244 screens, the film grossed $586,000, dropping off a fair 25% from last weekend. That resulted in a $2,402 average and a new total of $6,081,745.
The Weinsteins' other awards hungry film – Michel Hazanavicus' "The Artist" (which is cleaning up at Oscar precursors left and right) – expanded from 16 to 17 screens in its fourth weekend. The result was a $276,879 gross, down just 3% from last weekend's numbers. With an average of $16,875 per theater, "The Artist" saw its total gross stand at $1,327,00. For a silent film without heavy star wattage, this is clearly a very impressive result so far. With many Oscar nominations expected to be en route, the sky's the limit for where it could go from here.
"Shame" star Michael Fassbender's other major specialty release – David Cronenberg's "A Dangerous Method" – also held on well. The film, which stars Fassbender as Jung and Viggo Mortensen as Freud, expanded from 4 to 17 screens in its fourth weekend and grossed a strong $158,731. That made for a $9,337 per-theater-average and a new total of $727,733. Like "Carnage," "A Dangerous Method" is being released by Sony Pictures Classics.
Finally, two of the most impressive and somewhat unexpected success stories of the fall continued well on their way:
Emilio Estevez's "The Way," starring his father Martin Sheen, dropped from 120 to 93 theaters this weekend via a unique partnership between Estevez, Elixir Films, Producers Distribution Agency and ARC Entertainment. The result was a $77,949 gross and a $838 average. The film's total now stands at $3,987,352.
Roadside Attractions also continued to find great news from JC Chandor's Wall Street-set "Margin Call." The feature dropped from 142 to 120 screens in its ninth weekend and took in $109,500. That made for a $913 average and saw the film cross the $5 million mark, taking its total to $5,125,802.
Check out further analysis on the success of both "The Way" and "Margin Call" here.
Peter Knegt is Indiewire's Associate Editor. Follow him on Twitter and on his blog.
Indiewire tracks independent/specialty releases compiled from Rentrak Theatrical, which collects studio reported data as well as box-office figures from North American theatre locations. To be included in the Indiewire Box Office Chart, distributors must submit information about their films to Rentrak at studiogrosses@rentrak.com by the end of the day each Monday.
Sign Up: Stay on top of the latest breaking film and TV news! Sign up for our Email Newsletters here.