For New York's specialty filmgoers, it was a very "Pina" Christmas. According to Rentrak estimates, the Wim Wenders-directed documentary that looks at the work of dance artist Pina Bausch grossed $88,399 from three screens in New York over the 4-day holiday weekend frame, averaging a fantastic $29,466.
"Pina opened to rave reviews and we are thrilled with the numbers," a Sundance Selects rep said today. "The film will stay exclusive in NY until an expansion to top markets early in January."
Also debuting was Angelina Jolie's directorial debut "In The Land of Blood and Honey." A love story set against the Bosnian War, the Film District-release opened on three screens but failed to attract a significant audience. It grossed $27,827 between Friday and Monday, averaging $9,276.
Though 4-day numbers were not available, Yimou Zhang's "The Flowers of War" – which was nominated along side Jolie's "Blood" for a foreign language film award at the Golden Globes – did quite well in a Oscar qualifying run this weekend. Starring Christian Bale, the film grossed $41,946 from 3 screens in New York, LA and San Francisco ovr the 3-day weekend. That made for a $13,982 per-theater-average and a total of $51,464 (it opened on Wednesday at one of its screens).
Among holdovers, Roman Polanski's "Carnage" expanded slightly from five to seven screens in its second weekend. The film, based on the play by Yasmina Reza, stars Kate Winslet, Jodie Foster, John C. Reilly and Christoph Waltz as two sets of parents who meet after their children have been in a fight in the park. Distributed by Sony Pictures Classics, it grossed $88,216 over the 4-day weekend for a $12,602 average. Its total now stands at $205,871.
Polanski's last effort, "The Ghost Writer," averaged $18,350 from a much more aggressive 43 screens last February (on a 3-day weekend). That film went on to gross $15,541,549.
Focus Features' "Tinker, Tailor, Soldier, Spy" expanded from 16 to 55 screens in its third weekend and held on very nicely. Tomas Alfredson's UK spy thriller saw a 57% rise in grosses, taking in $1,210,160 over the holiday frame and averaging $22,003.
Starring Gary Oldman, Colin Firth, Tom Hardy and John Hurt, the well-reviewed film has not received many notices from awards season so far, getting shut out of the Golden Globe and SAG nominations. But it doesn't seem to have hurt the film at all, which has now totalled $2,311,670.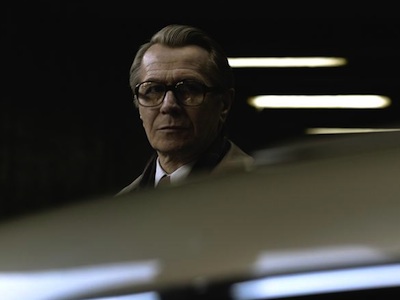 "'Tinker' established itself as the specialty title of choice for audiences this holiday weekend," a Focus Features rep said today. "The film continued to drive impressive box office results yesterday and is dominating the specialty box office in a very competitive holiday marketplace. 'Tinker' sustained a #1 rank among smart/art house films (particularly so in the new markets opening this weekend)."
Focus went on to take a swipe at the Weinstein Company's top title. "Of note, 'Tinker' is still exceeding The Artist's box office as it did yesterday, in some houses greatly out grossing that title. ord-of-mouth and critical acclaim continue to be key drivers to this success."
Speaking of "The Artist," Michel Hazanavicus' film (which is cleaning up at Oscar precursors left and right) expanded significantly from 17 to 167 screens in its fifth weekend and the results were definitely not too shabby. The film managed a $1,402,000 gross between Friday and Monday. With a very strong average of $8,395 per theater, "The Artist" saw its total gross stand at $2,900,430. For a silent film without heavy star wattage, this is clearly a very impressive result so far. With many Oscar nominations expected to be en route, the sky's the limit for where it could go from here.
"My Week With Marilyn," which stars Michelle Williams in a heavily Oscar-buzzed role as Marilyn Monroe (she received SAG and Golden Globe noms) expanded from 244 to 602 screens in its fifth weekend. The Weinstein Company release dropped 14% over the 3-day frame despite more than doubling its screen count, and grossed $888,000 over the 4-day holiday weekend. That made for a weak average of $1,475 and a new total of $7,307,196.
Steve McQueen's "Shame" dropped from 51 to 50 screens in its fourth weekend for Fox Searchlight. The NC-17 rated film starring Michael Fassbender and Carey Mulligan grossed $190,500 as a result over the 4-day weekend, a big drop from last weekend (which may have something do with the film not exactly being Christmas fare). It averaged $3,594 and has now totaled a decent $1,597,917, making it only the 13th NC-17 rated film to gross over $1 million dollars.
"Shame"'s fellow Searchlight release – Alexander Payne's "The Descendants" – started to slow after 5 weekends of very strong numbers. Dropping slightly to 813 screens (down from 878), the film grossed $3,425,000 over the four-day weekend. That gave the film, starring George Clooney as a Hawaii land baron, a $4,213 average and a very admirable new total gross of $33,716,552.
Finally, "Shame" star Michael Fassbender's other major specialty release – David Cronenberg's "A Dangerous Method" – went from 17 to 58 screens and held on decently. The film, which stars Fassbender as Jung and Viggo Mortensen as Freud, took in $292,230 over the holiday frame. That made for a $5,038 per-theater-average and a new total of $1,088,457. Like "Carnage," "A Dangerous Method" is being released by Sony Pictures Classics.
Peter Knegt is Indiewire's Associate Editor. Follow him on Twitter and on his blog.
Indiewire tracks independent/specialty releases compiled from Rentrak Theatrical, which collects studio reported data as well as box-office figures from North American theatre locations. To be included in the Indiewire Box Office Chart, distributors must submit information about their films to Rentrak at studiogrosses@rentrak.com by the end of the day each Monday.
Sign Up: Stay on top of the latest breaking film and TV news! Sign up for our Email Newsletters here.