For the third consecutive year, Tilda Swinton has given us one of the year's best performances.
In 2009, she offered us "Julia," in which she portrayed the alcoholic nightmare that is the film's title character, a woman who kidnaps a boy in hopes of successfully blackmailing his grandfather for $2 million (only to find herself bonding with him).
Last year, it was "I Am Love," which saw Swinton taking on the role of an wealthy Italian matriach coping with some extraordinary drama as her life – and the lives of her children – begins to unravel.
Completing what Swinton has referred to as "the mother lode trilogy," her powerful performance in "We Need To Talk About Kevin" is debuting in theaters this weekend for an Oscar-qualifying run (before expanding nationwide in early 2012).
Directed by Lynne Ramsay, "Kevin" is an adapation of Lionel Shriver's award-winning novel of the same name. It finds Swinton taking on Eva Khatchadourian, the mother of a teenager who has committed a shooting massacre at his high school. And ever since its debut at the Cannes Film Festival earlier this year, it's being heralded as yet another highlight in Swinton's career.
"It kind of found me in the sense that I knew Lynne already," Swinton said of coming to the project. "She was a friend. And like most people who know her work, I was waiting for her new film avidly. And I was hoping that one day we might make a piece of work together. But she'd already started developing it by the time she presented it to me."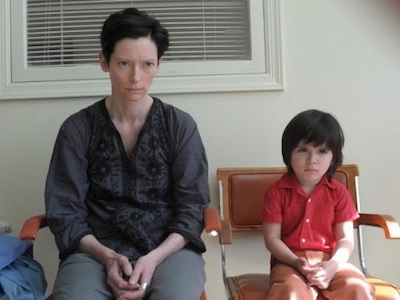 Swinton had already read the book previous to meeting Ramsay and was "super excited" about the material.
"We met about five years ago," Swinton said. "For me, that's a relatively short time. If you think of 'I Am Love,' which was a dozen years… This was relatively short. Funnily enough, with a lot of satifsying kinds of work, it gets more and more interesting to me as time wears on."
While the end result certainly offered Swinton a showcase for her talents, it was by no means a one-person show. Alongside the actress were three young actors (Ezra Miller, Jasper Newell and Rocky Duer) depiciting her fictional son at different points in his psychopatic development. And each of them very much held their own.
The Kevins were cast by Billy Hopkins, a New York casting director Swinton is quick to call a "genius."
"He's an extraordinarily intuative guy," she said. "And he found all of our boys, including Ezra. And the boys were hardcore. The actor that played the middle Kevin, Jasper… He works the Kevin vibe for longer in the film than even Ezra does and he sets it all up. And it's really extraordinary."
As a mother herself, Swinton had an understanding of the remarkable nightmare placed in front of her character.
"The thing that made me want to look at this portrait of this woman was the experience of having children myself and noticing when I first had them how much I was into them from the very, very beginning," she explained. "Not only did I have a generic agape love for them, but I also really dug them. I thought, 'You're really cool and I really look forward to getting to know you.' But at that moment I remember noticing that I was relieved that it hadn't gone the other way. 'You mean it could have gone the other way,' I thought. And then the thought just vanished."
That though resurfaced when Swinton was reading Lionel Shriver's book.
"What she does in that book is go 'okay, let's look at this scenario,'" Swinton said. "It goes the other way. You have a child, you look at it, and it's not there. It's not happening. In fact, you're revolted. What do you do then?"
Swinton felt that Shriver drove into that curve in a total nightmare way.
"I'm aware for millions of woman and millions of children of those woman, this is a reality," she said. "We all know people who either have children that they have this kind of disconnect with, or are the children of mothers who have this disconnect. And it is a taboo. People don't really talk about it. It's a true nightmare, because it is irrevocable."
Despite that, Swinton does not believe "Kevin" is social commentary. Instead, she calls it "very much an extrapolation."
"I keep saying that it's got as much to do with the practical business of bringing up children as 'Rosemary's Baby' is about the practical business of being pregnant," she said. "Meaning that every pregnant woman – even for a minute – has a fantasy that she's giving birth to the devil. And every mother – particularly the mother of a son – at least for a millisecond has the fantasy that she's harboring a major psychopathic killer.
"So it's not really social commentary, but at the same time we do know that the statistics on post-partem suicide and infant murder by mothers is rising all the time," Swinton said. "There's something in Western society which does tend to attempt to filter out, bleach out and vanillafy the mortal business of living, basically. And it will come up and bite your ass."
Honor Roll is a daily series for December that will feature new or previously published interviews, profiles and first-persons of some of the year's most notable cinematic voices. Today we've featured a new profile of "We Need To Talk About Kevin" actress Tilda Swinton.
Sign Up: Stay on top of the latest breaking film and TV news! Sign up for our Email Newsletters here.