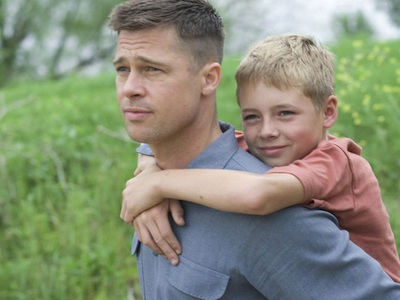 With 63 votes among 162 critics, journalists and other tastemakers, Terrence Malick's Palme d'Or-winning "The Tree of Life" led the charge in Indiewire's Poll For the Best of 2011 Film. Malick also nabbed 18 mentions for Best Director, placing him in first place for that category as well.
Since it premiered at the Cannes Film Festival in May, "The Tree of Life" has remained a divisive movie that made mainstream audiences to throw up their hands, but it has maintained serious leverage among international critics in recent months, winning polls conducted by Film Comment and Sight & Sound last week ahead of Indiewire's poll, which closed Friday.
However, "The Tree of Life" faced sizable competition for Best Film from both the Iranian drama "A Separation," which opens December 30 and received 59 mentions, and Lars Von Trier's allegorical tale of the apocalypse, "Melancholia." With 52 mentions for Best Film, "Melancholia" wound up on fewer ballots than "A Separation," but received a higher ranking on more lists.
While many critics singled out "The Tree of Life" and "Melancholia," very few voted for both. The two movies' final showdown provides a reminder of the competition they began back at Cannes, when some critics discussed the juxtaposition of Malick's spiritual and noticably Christian worldview with Von Trier's bleak and secular alternative.
Unsurprisingly, Von Trier and Malick were also neck-and-neck for best director, although Malick won out with 18 votes over Von Trier's 11. Critics including Roger Ebert, Peter Travers, Karina Longworth and Richard Brody cast their votes for "The Tree of Life." Those whose votes supported the competition from "Melancholia" included The Village Voice's J. Hoberman and Amy Taubin, who discussed the film in a conversation moderated by Indiewire last month.
There was less blatant contention over the cinematography category, where "The Tree of Life" easily took first place with 62 mentions, way ahead of "Hugo," which received nine. Clearly, while "The Tree of Life" was a film that made some critics roll their eyes and others fall asleep, few could deny the allure of cinematographer Emmanuel Lubezki's roaming camera and sweeping views of natural beauty. A vote for the cinematography of "The Tree of Life" seemed to endorse not only Lubezki's accomplishment but also the frequently overwhelming sense of wonder that Malick usually employs with his poetic visual style.
"The Tree of Life" did not dominate in other categories; nor did any other film. Instead, all the performance categories, as well as those for screenplay, first feature and documentary, came down to close calls — and, in one case, a shared prize. The number one spot for Best Performance was shared by two actors whose turns as seriously damaged men have garnered acclaim: Michael Shannon, playing a possibly schizophrenic blue-collar worker prophesying the end of days in "Take Shelter," and Michael Fassbender, whose turn as a sex-addicted New Yorker in "Shame" has landed even more approval than the movie itself. Fassbender received 45 mentions, just one more than Shannon, but the ranking of various lists led to a tie.
In the Best Supporting Performance category, Christopher Plummer's crowdpleasing role as a man who comes out of the closet in his 70s in Mike Mills' "Beginners" received 44 mentions, nudging ahead of Albert Brooks' menacing turn in "Drive," which received 41. (Further down the list, a few voters tried to give "The Artist" hero Uggie the Dog some leverage. He received four presumably sincere votes.)
"A Separation," another popular favorite for best film, landed in first place for Best Screenplay, a few steps ahead of Kenneth Lonergan's "Margaret." That movie, the subject of much discussion among critics over the last few weeks when a petition was launched to convince distributor Fox Searchlight to screen the little-seen film to more critics' groups, still won one category: Best Ensemble, a recognition of committed performances from a cast that included Anna Paquin (who also came in second for Best Lead Performance), J. Smith Cameron, Jeannie Berlin, Mark Ruffalo and Matt Damon.
On the other side of the arena from name actors and established auteurs, the category for Best First Feature went to another Fox Searchlight release: Sean Durkin for his acclaimed debut "Martha Marcy May Marlene," which premiered at Sundance in January and eventually led Durkin and his colleagues at Borderline Films to land a first-look deal with the film's distributor.
Another Sundance premiere won Best Documentary: "The Interrupters," a sprawling account of activism against Chicago street violence from "Hoop Dreams" director Steve James, received 17 mentions, just ahead of Patricio Guzman's equally acclaimed "Nostalgia for the Light," a mesmerizing portrait of the Chilean desert. Indiewire interviewed Guzman, who recently won accolades from the IDA and Cinema Tropical awards, earlier this year.
Even in the category of Best Undistributed Film, where critics usually vote for a wide variety of titles based on what they manage to see at various festivals, the top spot was nearly a tie. "The Color Wheel," Alex Ross Perry's acerbic comedy about sibling rivalry, won first place with 15 mentions, just ahead of Sophia Takal's sexual thriller "Green," which received 12.
Still, the films that received many votes might not interest readers as much as those that received only one. In every category, many critics chose to single out movies, performances, screenplays and technical feats that either nobody else saw or felt compelled to recognize. While these individual votes have no real sway over the movies at the top of the list, they still sit on our results page for your browsing pleasure. (Of note: A rogue vote for "Scream 4" as the best film of 2011 and another for "Monkey Man" from "Uncle Boonmee Who Can Recall His Past Lives" as best performance.)
And that's the good news: The publication of Indiewire's poll marks the launch of the site's temporary Criticwire design, which went into hibernation when the rest of the site relaunched with a new look last month. We know it's nothing flashy yet and plan to launch a far more exciting version of the Criticwire network early next year. For now, you can still peruse critics' year-end ballots and grades for new releases to get a sense of the varying opinions at the end of the year.
As we march forward with plans for Criticwire's new life, we really want to know what you'd like to see it become; if you have any suggestions, please don't hesitate to contact us at editors@indiewire.com.
Stay tuned for more coverage of Indiewire's 2011 film poll throughout this week.
Sign Up: Stay on top of the latest breaking film and TV news! Sign up for our Email Newsletters here.