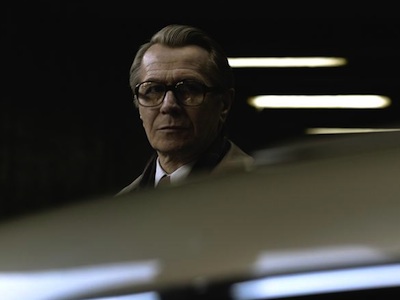 Screeners of "Tinker, Tailor, Soldier, Spy" recently sent to awards season voters provide the option for subtitles, presumably so American audiences can decipher the British dialect. But some viewers will need more than that to comprehend the serpentine plot of Tomas Alfredson impressively elegant adaptation of John le Carré's 1974 spy novel, which also gave rise to a popular TV series starring Alec Guinness. I had to see the new version twice to realize that there's so much to appreciate about this multilayered production. Befuddled audiences may want to take a second look, and those entering into the experience for the first time should consider focusing on these three aspects of the unquestionably smart, perceptive narrative.
THE MOOD
The basic story of "Tinker, Tailor" is actually rather easy to follow: Grumpy old agent George Smiley (Gary Oldman) is plucked from retirement to rejoin "the Circus," an insider term for the British intelligence, to help the agency weed out a "mole" apparently leaking secrets to the Soviets. Even if you can't follow every twist — and there are many — involved in Smiley's process of uncovering the mole, the atmosphere of "Tinker, Tailor" sustains the plot in purely cinematic terms.
Composer Alberto Iglesias (a frequent collaborator of Pedro Almodóvar) uses a stylishly baroque score to explore the cautious, trained mannerisms of the Circus' maneuvers, emphasizing the suspense created by the unknown mole's invasion of their private affairs. Cinematographer Hoyte Van Hoytema brings the same darkly expressive palette that made his previous collaboration with Alfredson, the childhood vampire drama "Let the Right One In," such a creepy delight.
But those visuals take on a more salient value in "Tinker, Tailor," enriching Smiley's world with a blend of paranoia, confusion and intrigue. The movie begins with a botched operation in Budapest that leaves the Circus agents in a state of confusion that leads Smiley and current Circus head Control (John Hurt) to resign. The agency reenlists Smiley to unearth the mole partly because he's now "outside the family," a status that the perennial government employee isn't entirely comfortable taking on. The sense of discomfort that Alfredson generates around his leading man–the lingering feeling that he no longer belongs–comes to life in the movie's grim tone.
THE PERFORMANCES
Oldman's solemn, fixed expression registers a tremendous degree of complexity, especially in light of his character's trained ability to remain withdrawn. There's a real person beneath his scheming visage, but the trick of the movie is that even the camera can't quite push beneath it. He's a brilliant walking enigma. Oldman stands at the center of a rich male cast rounded out by a pugnacious Toby Jones as a whining fellow Circus member intent on tapping into American intelligence, as well as Colin Firth as the suavest spy of them all. Or is he?
THE PLOT
The hardest entry point for viewers unprepared for such an advanced series of developments is also the movie's strongest selling point. The plot is, in fact, the main reason why anyone should find it worthwhile to see "Tinker, Tailor" more than once. If the spies' shorthand occasionally sounds cryptic, well, that's exactly how Carré intended it. In an introduction to a recent edition of the novel, the author describes a lot of the lingo as "informed fantasy," arguing that he "wished merely to underline the fact that spying for those who do it is a trade like any other, and that like other trades, it has its little bits of language." Linguistic specificity allows tidbits of "Tinker, Tailor" to fly by without an abundance of explanations. It's an admirable feat that doubly functions by giving voice to the advanced intelligence process often lost on those accustomed to the idea of 007 guzzling martinis and bedding women as his primary line of work.
"Tinker, Tailor" proves that the process has much deeper, subtler connotations. It's also not so glamorous and often inefficient, as Anthony Kaufman points out in a recent post at ReelPolitik. "No mission accomplished signs here," he writes. "If there are victories in the work of John Le Carre, they are always Pyrrhic ones." There are dozens of throwaway lines in "Tinker, Tailor" to support this observation. I'm keen to an early observation voiced by Smiley when considering a new intelligence dossier: "If it's genuine, it's gold dust," he says, "but its topicality makes it suspect." In "Tinker, Tailor," everything seemingly trustworthy is a potential facade.
criticWIRE grade: A-
HOW WILL IT PLAY? Fans of the TV show and widespread early acclaim for Oldman's performance should propel "Tinker, Tailor" to a solid reception in limited release, although the "difficult" nature of the plot may result in a strong drop-off after it opens this Friday. However, awards season buzz for Oldman should keep it on the radar.
Sign Up: Stay on top of the latest breaking film and TV news! Sign up for our Email Newsletters here.