While "New Year's Eve" is poised to do solid business this weekend, don't worry; there are a slew of speciality releases opening to counter the star-studded stinker. Below get an idea of what's worth you money by reading the reviews published this week on Indiewire and our blog network.
"I Melt With You"
The Playlist: C+
A more interesting film would have explored this fascinating dichotomy. Unfortunately, "I Melt with You" simply likes its characters too much, giving legitimacy to what amounts to petty lifetime grievances.
"London RIver"
Indiewire: B-
Rachid Bouchareb's "London River" is simultaneously quaint and far-reaching, a tension the filmmaker never fully resolves. Set in the immediate aftermath of the 2005 London bombings, the movie follows a pair of single parents — a middle-class widow, Elisabeth (Brenda Blethyn), who heads from her country home to the city in search of her grown daughter; and a soft-spoken African man, Ousmane (the late Sotigui Kouyaté), who seeks his estranged son.
The Playlist: B
The elderly Kouyaté (this would be his last film role before his passing in 2010; yes, the film has been waiting for U.S. distribution for a while) is all interior to the point of detriment to the film.
"New Year's Eve"
The Playlist: D+
With "New Year's Eve," he's targeting women of all ages, offering teens Efron while middle-aged women get to sigh over Bon Jovi and dream that they, too, could get a New Year's Eve kiss from a sexy younger man like the women here do. Embarrassingly, his directorial touch is most evident when the camera lingers for far too long and favors reaction shots of the one anonymous actress in this bunch, who turns out to be Marshall's wife.
"Tinker, Tailor, Soldier, Spy"
Indiewire: A-
"Tinker, Tailor" proves that the process has much deeper, subtler connotations. It's also not so glamorous and often inefficient, as Anthony Kaufman points out in a recent post at ReelPolitik. "No mission accomplished signs here," he writes. "If there are victories in the work of John Le Carre, they are always Pyrrhic ones."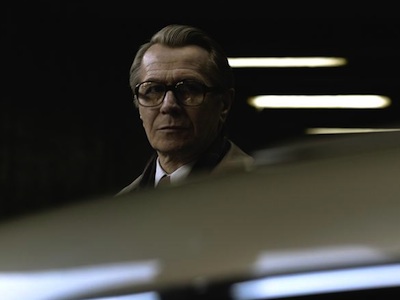 Leonard Maltin
But in their desire to depict the day-to-day doings of a top-level spy, Alfredson and company have forgotten to maintain the kind of energy that's vital to a film as densely-plotted as this.
The Playlist: A
We're virtually past the point of having to say that Tom Hardy is brilliant in a film, but brilliant he is, and once more showing new strings to his bow; soft and vulnerable, deeply wounded by being shut out by his employers, he couldn't be more different to his other turn of the moment as the brutal, turned inward brawler in "Warrior."
"Young Adult"
Indiewire: B-
Charlize Theron might not be her own worst critic, but she's certainly the most honest. Accepting a tribute at the Gotham Awards last week, she singled out Jason Reitman, director of "Young Adult." She didn't mince words: "Jason," she said, "thank you for letting me play such a bitch."
Leonard Maltin
Having admired all of Reitman's previous films, and having always known that Theron is a talented actress, I find this film particularly disheartening.
The Playlist: A-
For ninety minutes, "Young Adult" doesn't flinch from deep-seated scars and long-lasting regret, and it's only funnier for exploiting and exploring the grand delusions of its utterly pathological, pretty-on-the-outside protagonist.
The Playlist : A
The formalist construction here is a thing of wonder — there's a brute splash or slash of red in so many scenes that you think Ramsay must be joking, and then she throws in a brief nod to assure you that she is (watch carefully in the grocery store) and then continues so that it is clear she is not.
"W.E."
Indiewire: C+
"W.E." is less outright bad than underwhelming; if the director were unknown, it would hardly deserve notice. Like her first film, the 2008 "Filth and Wisdom," it suffers from countless storytelling flaws. But where her debut was a bizarre low-budget and blatantly amateur British comedy that embraced its rough edges, "W.E." is all sleek, polished surfaces and overabundant romanticism. Together, they also reveal two sides of Madonna's career, the oscillation between sacred and profane that defines her iconography.
Sign Up: Stay on top of the latest breaking film and TV news! Sign up for our Email Newsletters here.