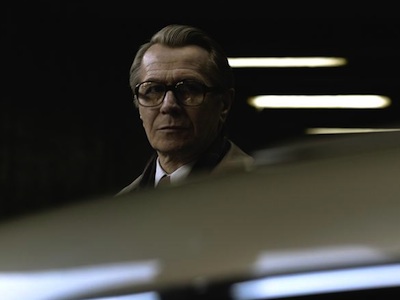 The Art Directors Guild (ADG) has announced the nominations for their 16th Annual Excellence in Production Design Awards.
Across three different categories – contemporary, period and fantasy – the ADG recognized the expected likes of "The Artist," "Hugo," "Tinker Tailor Soldier Spy" and "Harry Potter and the Deathly Hallows, Part 2" as well as some surprises (mostly care of the contemporary category) in "Bridesmaids," "Drive" and "The Descendants."
Films missing the cut included "War Horse," "Jane Eyre," "A Dangerous Method," "Sherlock Holmes: A Game of Shadows," "W.E." and "The Tree of Life" (though all competed in the very crowded "period" category).
The ceremony announcing winners will take place Saturday, February 4, 2012 at the International Ballroom of the Beverly Hilton Hotel in Beverly Hills with Paula Poundstone serving as host for the third consecutive year.
Full list of nominations below.
Period Film
THE ARTIST Production Designer: Laurence Bennett
HUGO Production Designer: Dante Ferretti
THE HELP Production Designer: Mark Ricker
ANONYMOUS Production Designer: Sebastian Krawinkel
TINKER TAYLOR SOLDIER SPY Production Designer: Maria Djurkovic

Fantasy Film
HARRY POTTER AND THE DEATHLY
HALLOWS PART 2 Production Designer: Stuart Craig
CAPTAIN AMERICA: THE
FIRST AVENGER Production Designer: Rick Heinrichs
THE ADVENTURES OF TIN TIN:
THE SECRET UNICORN Production Designer: TBD
PIRATES OF THE CARIBBEAN:
ON STRANGER TIDES Production Designer: John Myhre
COWBOYS & ALIENS Production Designer: Scott Chambliss
Contemporary Film
THE GIRL WITH THE DRAGON TATTOO Production Designer: Donald Graham Burt
THE DESCENDANTS Production Designer: Jane Anne Stewart
EXTREMELY LOUD &
INCREDIBLY CLOSE Production Designer: K.K. Barrett
DRIVE Production Designer: Beth Mickle
BRIDESMAIDS Production Designer: Jefferson Sage
Sign Up: Stay on top of the latest breaking film and TV news! Sign up for our Email Newsletters here.