Only two specialty films — "Once Upon a Time in Anatolia" and "Norwegian Wood" — entered the marketplace on the first full weekend of 2012, a group of 2011 holdovers helped make it a potent weekend. According to estimates provided by Rentrak, "Tinker, Tailor, Soldier Spy," "The Iron Lady" and "Pina" all soared well above expectations to give the specialty box office a nice kick into the new year.
As far as the noted openers went, both performed respectably given neither were particularly high profile. Nuri Bilge Ceylan's Turkish import "Anatolia" debuted on a single screen at NYC's Film Forum for distributor the Cinema Guild. The result was a $11,129 gross, impressive give the film's running time only allowed for three shows a day. The Cinema Guild said the film sold out half of all its showtimes.
"Norwegian Wood," meanwhile, opened on three screens in New York, DC and Arlington, VA. Distributor Red Flag Releasing reported that the result was a $13,000 gross and a $4,333 average. That's reasonable for the Anh Hung Tran-directed film, which Red Flag noted performed much better in New York and DC than in Arlington. At the IFC Center in New York, the film play to predominantly sold-out shows.
The weekend's biggest stories came care of a few holdovers. Focus Features made an aggressive expansion of Tomas Alfredson's "Tinker, Tailor, Soldier, Spy." After four very successful weeks in limited release, Focus pushed the film from 57 to 809 screens and saw it perform well beyond expectations. Grossing $5,767,288, "Tinker" shot into the overall top 10 with a fantastic average of $7,129.
Starring Gary Oldman, Colin Firth, Tom Hardy and John Hurt, the well-reviewed film has not received many notices from awards season, getting shut out of the Golden Globe and SAG nominations. But it doesn't seem to have hurt the film at all, which has now totalled $10,418,437 (with plenty more where that came from).
"'Tinker's' box office momentum continues with the success of the film's new openings and the sustained success in art houses that are in their fourth and fifth week of play, where the film is consistently holding its number-one rank in many places," sad Focus Features' Adriene Bowles. "Many of the houses that opened in December had box office increases on Saturday that were even better than last Saturday's New Year's Eve results. 'Tinker' successfully crossed over to the commercial marketplace with its expansion this weekend and is demonstrating real legs in the specialty marketplace as well."
The weekend's overall best per-theater-average came care of the second weekend of Weinstein Company release "The Iron Lady." Expanding slightly from four to five screens, the film grossed an impressive $172,100. That gave "Lady," starring Meryl Streep as Margaret Thatcher, a huge average of $34,420. Even more impressive is that it's now grossed $516,395 from just 10 days of release on a handful of screens.
Just behind it was another lady, "Pina," which held steady on three New York screens but — for the third consecutive weekend — saw an increase in grosses despite no additional screen count. The Wim Wenders-directed 3D documentary that looks at the work of dance artist Pina Bausch grossed $81,000 over the weekend (in part thanks to Wenders' appearance at some screenings), averaging a huge $27,000. That gave it a total of $382,000 ahead of an expansion that could easily make "Pina" a huge success story for distributor Sundance Selects.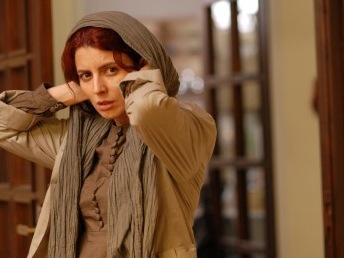 Also finding strong numbers was Asghar Farhad's Iranian drama "A Separation," which Sony Pictures Classics expanded from three to six screens in its second weekend. The film, which is heavily favored in this year's foreign-language Oscar race, scored a $96,618 gross, averaging $16,103. Its total now stands at $202,026.
Focus Features' release of Dee Rees's "Pariah" also expanded its second weekend. Going from four to 11 screens, the drama held on quite nicely after a somewhat underwhelming debut. Its grosses shot up 130% as it took in $111,573, averaging $10,143 and taking its total to $235,012.
Also not faring so well was the third weekend of Angelina Jolie's directorial debut "In The Land of Blood and Honey." A love story set against the Bosnian war, the Film District release went from two to seven screens and failed to attract a significant audience. It grossed $31,812 over the weekend, giving it a $4,545 average and a new total of $90,204
Roman Polanski's "Carnage" expanded slightly from 12 to 15 screens in its fourth weekend. Distributed by Sony Pictures Classics, it grossed $115,834 for a decent $7,722 per-theater-average. Starring Jodie Foster, Kate Winslet, Christoph Waltz and John C. Reilly, the film has now totalled $537,021.
Expanding from 167 to 172, Michel Hazanavicius's "The Artist" continued to give the Weinstein Company reason to celebrate as it heads into Oscar season with the assumed frontrunner. The film managed a $1,136,000 gorss over its seventh weekend, averaging $6,605. The film's total has now grown to $7,113,501, which is surely a record for a silent film.
"My Week With Marilyn," which stars Michelle Williams in a heavily Oscar-buzzed role as Marilyn Monroe (she received SAG and Golden Globe noms) dropped from 630 to 584 screens in its seventh weekend. The Weinstein Company release dropped 11% in grosses as a result, taking in $823,000 for a $1,409 average. The film has now totalled a healthy $10,454,013.
Steve McQueen's "Shame" dropped from 55 to 45 screens in its sixth weekend for Fox Searchlight. The NC-17 film starring Michael Fassbender and Carey Mulligan grossed $210,000 as a result, rising 5% in grosses despite losing screens. That gave "Shame" a $4,667 average and a new total of $2,336,610.
A fellow Searchlight release, Alexander Payne's "The Descendants," dropped 24% as its screen count fell from 758 to 737 in its eighth weekend of release. It grossed $2,565,000, which is still very respectable. It gave the film, starring George Clooney as a Hawaii land baron, a weekend average of $3,480 and a new total of $43,941,563. It's now the ninth-highest grossing film ever for Fox Searchlight.
Finally, Fassbender's other major specialty release, David Cronenberg's "A Dangerous Method," went from 61 to 64 screens. The film, which stars Fassbender as Jung and Viggo Mortensen as Freud, took in $310,229 over the weekend, jumping 3% in grosses. That made for a $4,847 per-theater-average and a new total of $2,107,127. Like "Carnage," "A Dangerous Method" is released by Sony Pictures Classics.
Peter Knegt is Indiewire's Senior Editor. Follow him on Twitter and on his blog.
Indiewire tracks independent/specialty releases compiled from Rentrak Theatrical, which collects studio reported data as well as box-office figures from North American theatre locations. To be included in the Indiewire Box Office Chart, distributors must submit information about their films to Rentrak at studiogrosses@rentrak.com by the end of the day each Monday.
Sign Up: Stay on top of the latest breaking film and TV news! Sign up for our Email Newsletters here.