Whatever audiences may make of Madonna's "W.E.," she says she's satisfied with her work.
[This interview was originally published during Indiewire's coverage of the 2011 Toronto International Film Festival. "W.E." opens this Friday, Feb. 3.]
"I know that I did the best that I could do," Madonna told Indiewire of directing and co-writing "W.E.," which had its North American premiere last night at the Toronto International Film Festival. "I pay attention to reviews where I know people are reviewing my work. When they're letting me — the person, the human being — get in the way, then I don't really give it much credence. At the end of the day, I made the film to be judged as a film. Not for people to compare it to me."
The film made its first appearance just over a week ago at the Venice Film Festival, where critics were quick to pounce on Madonna's second directorial effort (after 2008's "Filth and Wisdom"). The reception in Toronto seemed to be much more in line with Madonna's ideals, as the general reaction among Toronto audiences suggested criticisms may have been somewhat blown out of proportion.
"I understand that that's going to happen," she said. "I knew going into this that people were going to sometimes get their opinion of me mixed up and muddled in with my work. So of course I always appreciate it when people really review my film and stick to the film."
The film explores Wallis Simpson (Andrea Riseborough), who became the Duchess of Windsor when she married King Edward VIII; and Wally Winthrop (Abbie Cornish), a modern-day, fictional mirror of Simpson who is searching for her own fairytale romance. Weaving their narratives, the film examines how each woman overcomes obstacles in their quests to be who they are.
For Madonna, it's a story of female empowerment that fits quite nicely into her near 30-year career as an iconic entertainer.
"It's knowing that you're in charge of your destiny and knowing that you don't have to live your life according to other people's plans or expectations of you," she said of the film. "I mean, that's always been a been a big message in my work. The freedom to express yourself and be who you are and not limit yourself. And that's a big message in the film: You're in charge of your destiny. You don't have to live the life that everyone else expects you to live."
Madonna said that she was initially drawn to the project simply out of a fascination with Simpson as a historical figure.
"I thought that the choice that Edward VIII made to give up the throne for this woman posed a lot of questions in my brain," she said. "One was the idea of whether he did it for love. Was it the greatest romance of the 20th century?"
Another question was trying to understand her as character and what she had to offer.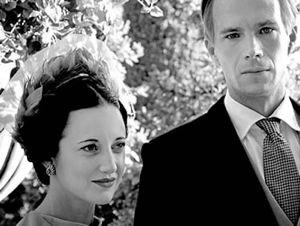 "As I investigated and did research into her, I realized she had been treated very unfairly in the history books and didn't turn out to be any of the things that were first presented to me," Madonna said. "So then that made me think about the whole idea of the cult of celebrity and our idea and our obsession with famous people and how unfairly they usually treat them because we don't allow them to become human beings. We paint them as either black or white and there's no nuance or subtlety. The idea of duality doesn't exist."
Clearly, Madonna knows a thing or two about those ideas. And she teamed up with her longtime collaborator and friend Alek Keshishian (director of Madonna doc "Truth or Dare") to write the screenplay.
"I had written 'Filth and Widsom' with Dan Cadan, an English writer who is actually quite funny and he lent himself very well to that subject matter," she said. "But when I started doing research on the story of the Duke and Duchess, at first I thought about writing with Dan again but then I thought I needed to write with someone who, like me, had spent a lot of time in England but is an American. I think a lot of times when you're an outsider and you come into a place you see things in a way than someone that's from that place can't see. That gives you an interesting and sometimes more objective point of view."
Once the script was set and shooting began, Madonna made clear she got quite the kick out of exploring various cinematic techniques.
"I really love camera movement," she said. "I love tracking shots and I love steady cam. I love the way the camera has a real human feeling to it when it's not locked off. That camera becomes an animal or a creature or a character in the film as well. It adds a sense of intimacy to the story and a sense of lyricism. And then there's a kind of dance that occurs. That was really important to me."
She said that one of the films that she used as an inspiration for the camera work was "La Vie En Rose."
"I love long takes with no cuts and there's two shots in that movie that were five minutes long," she said. "They had absolutely no edits and they were just so beautiful in the way they moved around the apartment. You never got bored and it was so beautiful. I wanted to do that. So I did it!"
What Madonna also did was continue to delve into what is perhaps the most male-dominated of all her many professions.
"I think directing is perceived as a man's job," she said. "And every once in a while, I would say to myself, 'This is a man's job.' Because, you know, there is no time for grooming. You know, I could only shave my legs once every two weeks. Forget about showing up to work being able to think about what I'm wearing or combing my hair. Most of the time I felt like a truck ran me over. So it's not a terribly feminine feeling to show up on the set making a film.
"On the other hand, being a woman really came in handy when it came to nurturing the actors and spending time with the girls and dressing them. And the boys! I loved dressing everybody. I loved putting the finishing touches on everyone. From the handkerchief in the pocket of Edward's suit to the cufflinks… The jewelry, the hair, the final pin in the hair… Everything. I loved doing that stuff. I don't want to categorize people, but I'm not sure how many men would be interested in that part of the job. Well, some."
The Weinstein Company will release "W.E." in December, at which point audiences across North America can judge her most ambitious foray into filmmaking. By that point, Madonna says she will be busy with her other job.
"I'd like to make more films," she said. "But what's next for me is I'm going to make a record. I've already started writing music and it's a nice change because I've been working on this movie for three years. And you know, songwriting is a much more visceral exercise than making films. I love them both, but when you're a filmmaker you really live in your head and it's nice to play the guitar and, you know, move around."
Sign Up: Stay on top of the latest breaking film and TV news! Sign up for our Email Newsletters here.