After having the first two months of 2012 largely led by Oscar-hungry holdovers, the specialty market saw a new crop of films finally take over. According to estimates provided by Rentrak earlier today, "Friends With Kids," "Footnote," "Salmon Fishing in Yemen" and "Jiro Dreams of Sushi" all found very strong debuts this weekend.
Here's the rundown:
The Debuts:
"Friends With Kids" (Roadside Attractions)
While not exactly "Bridesmaids" money, Roadside Attractions saw a very promising opening from Jennifer Westfeldt's romantic comedy "Friends With Kids." Starring a large portion of the "Bridesmaids" cast (Jon Hamm, Kristin Wiig, Maya Rudolph and Chris O'Dowd), as well as Adam Scott, Megan Fox, Ed Burns and Westfeldt herself, the Toronto Film Festival pickup took in $2,169,374 from an aggressive 374 screens. That made for a very respectable $5,801 per-theater-average ahead of an expansion to 600 screens next weekend.
"We had a great opening on Jennifer Westfeldt's very smart comedy 'Friends With Kids,'" Roadside Attractions' Howard Cohen said. "Our starry cast did a firestorm of press and electronic outlets and our exits show we got a great female as well as date crowd very evenly spread from 18 – 60."
"Salmon Fishing In Yemen" (CBS Films)
CBS Films debuted another Toronto acquisition — Lasse Hallstrom's "Salmon Fishing In Yemen" — on 18 screens this weekend. Starring Emily Blunt and Ewan McGregor, the film grossed $240,000, averaging a strong $13,333. The film also had a extremely impressive Friday-to-Saturday bump.
"We were excited yesterday when we assumed that 'Salmon Fishing in Yemen' would see a typical specialized release Friday/Saturday jump of 38%," CBS Films' Grey Munford told Indiewire. "Instead the film had an $108,000 gross, an increase of 86% over Friday."
Munford also noted that the audience makeup was 61% female, and that 71% of the audience was over 50.
"Salmon" expands next week.
"Footnote" (Sony Pictures Classics)
Following "In Darkness" and "A Separation," Sony Classics went for the foreign language Oscar nominee hat trick with Joseph Cedar's "Footnote," which they debuted on 2 screens this weekend. The result was a strong $48,076 gross and a $24,038 average — the highest of any film in release, wide or limited. That's higher than both the $9,138 "In Darkness" averaged last month (from 3 screens), and the $19,827 that "A Separation" averaged from 3 theaters back in December (more on both those films later). Which certainly bodes well as the film heads into expansion in the coming weeks.
"Jiro Dreams of Sushi" (Magnolia)
One other film managed a $20,000+ PTA this weekend, and that was David Gelb's doc "Jiro Dreams of Sushi." A look at 85-year-old sushi master Jiro Ono, the film opened on two screens in New York City (IFC Center and Lincoln Plaza) and took in a robust $43,500 for a $21,750 average. Magnolia will open the film in Los Angeles March 16th, with further expansion beginning March 23rd.
"The Ballad of Genesis and Lady Jaye" (Adopt Films)
The maiden voyage of Jeff Lipsky's new Adopt Films (which Indiewire profiled earlier this week), Marie Losier's "The Ballad of Genesis and Lady Jaye" was the weakest debut film this weekend, taking in $6,700 from 3 screens for a $2,233 average. Adding to its gross from Thursday night screenings, "Ballad" has taken in $9,450.
The Holdovers:
"A Separation" (Sony Pictures Classics)
Asghar Farhadi's Oscar-winning "A Separation" continued to impress well beyond expectation in its 11th weekend out. Going from 243 to 281 screens, the Iranian import grossed another $800,445 — dropping off just 16% from last weekend. That made for a $2,849 average and a stunning new total of $4,852,277. At this rate, the film should end up with a final gross in the $7-9 million range, making it the highest grossing foreign language Oscar winner since 2007's "The Lives of Others" (which was also a Sony Classics release).
"Undefeated" (The Weinstein Company)
Another Oscar winner — best documentary feature "Undefeated" — held steady on 13 screens in its fourth weekend and dropped off a somewhat disappointing 31%. Taking in $56,966, the high school football doc averaged $4,382. Further expansion will be the true test as to whether The Weinstein Company can turn its Oscar gold into a sizeable documentary hit, but so far the film has grossed $253,776.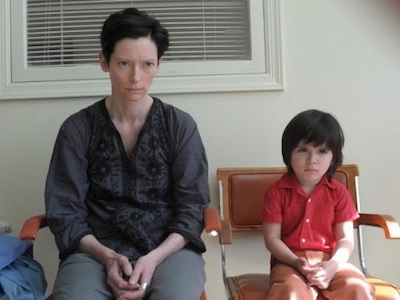 "We Need To Talk About Kevin" (Oscilloscope)
Outside of the Oscar winner's circle, Lynne Ramsay's "We Need To Talk About Kevin" jumped from 40 to 60 screens in its ninth weekend of its official theatrical run. The result was a 19% jump, grossing a respectable $157,290 and averaging $2,622. Added to its Oscar-qualifying numbers from December, the Tilda Swinton starrer has now earned $1,036,156. Despite missing out on an Oscar nom for Swinton, the film's slow-but-sure expansion plan seems to be working. By next weekend it should surpass "The Messenger" to become the highest grossing film in Oscilloscope's short history.
"Being Flynn" (Focus Features)
Last weekend's underwhelming top debut, Paul Weitz's "Being Flynn" expanded from 4 to 12 screens this weekend and continued to disappoint. The film dropped 3% despite tripling its screen count, grossing just $42,622 for a $3,555 average. The film's total now stands at $101,077, despite the presence of Robert DeNiro, Julianne Moore and Paul Dano.
"Boy" (Paladin)
Another sophomore release, Taika Waititi's "Boy" went from 2 to 4 screens this weekend for distributor Paladin, taking in $18,850 for a so-so per-theater-average of $4,713. The film's total now stands at $45,393. Paladin will expand it to the SF Bay Area next weekend, Seattle on March 23, and Boston and Washington on March 30 before rolling out to theaters across the country throughout April and May.
"In Darkness" (Sony Pictures Classics)
Yet another Sony Classics-released Oscar-nominated foreign language film found strong numbers this weekend as "In Darkness" expanded from 33 to 50 screens. The Holocaust-set Polish drama grossed $115,394 as a result, jumping 8% from last weekend and averaging $2,308. The film's total now stands at $574,682, with the $1 million mark definitely not out of the question.
"Pina" (Sundance Selects)
In its 12th weekend of release, Wim Wenders' 3-D doc "Pina" dropped from 64 to 50 screens and crossed the $3 million mark in the process. Grossing another $128,000, "Pina" impressively averaged $2,560 and took its total to $3,037,000. That makes it the 50th highest grossing documentary of all time, and the second 3-D doc hit in a row for Sundance Selects, which made just over $5 million from "Cave of Forgotten Dreams."
"The Artist" (The Weinstein Company)
As for Oscar's favorite film? In its whopping 16th weekend of release, Michel Hazanavicius's best picture winner "The Artist" dropped from last weekend's peak of 1,756 screens to 1,505. The result was a 36% dropoff and a $2,304,000 gross. And while its average of $1,531 is somewhat underwhelming, The Weinstein Company are surely happy with the milestone it crossed as a result: The film has now taken in $40,459,023 — crossing the $40 million mark. The $50 million mark is clearly Harvey and company's next hope, which is certainly possible but at this point it's as much as they can hope for.

Peter Knegt is Indiewire's Senior Editor. Follow him on Twitter and on his blog.
Indiewire tracks independent/specialty releases compiled from Rentrak Theatrical, which collects studio reported data as well as box-office figures from North American theatre locations. To be included in the Indiewire Box Office Chart, distributors must submit information about their films to Rentrak at studiogrosses@rentrak.com by the end of the day each Monday.
Sign Up: Stay on top of the latest breaking film and TV news! Sign up for our Email Newsletters here.