For more than 20 years, the major studios and major specialty distributors — Fox Searchlight, Universal, Sony Pictures Classics, Disney and others — have distributed Spike Lee's films. But for his most personal work in some time, "Red Hook Summer," Lee has relative newcomer Variance Films doing the honors, in what represents a shift for both the filmmaker and the indie film market.
Lee's film had its premiere at the Sundance Film Festival in January and opened this weekend to a reasonably solid $42,100 on four New York City screens; it will expand throughout the month. Just prior to its release, Variance president Dylan Marchetti spoke with Indiewire about his company's ambitions for both new and veteran independent filmmakers, how to make money in the filmmaking fringes and why he sneaks gin into "church."
A new movie from Spike seems like a good get for you guys, arguably your highest-profile filmmaker to date. Does this signal any strategy shift or great ambition for the company?
Well, no one can ever accuse us of not having great ambitions. There's no way around it. But as far as a strategy shift, I think it's less of a shift and more of our original strategy coming to fruition. You can see the seeds of it back last year when we did the John Sayles film "Amigo." I want Variance to be two things. I want young independent filmmakers who make a film that would be considered very small — something like Mike Ott's "Little Rock" or Damien Chazelle's "Guy and Madeline on a Park Bench" — that'll either get lost in the studio shuffle or get shunted into the corner onto a DVD release with a bigger guy to get that attention and get that launch so that they can go out and make another film. The other thing we want it to be is when someone like John Sayles or Spike Lee makes a personal film, ten years down the road I want these guys to know that they don't ever have to compromise for studio distribution because — if their vision is true and the film comes out right — we're there for them. I would love Variance to look like United Artists was supposed to in the '30s and then again Zoetrope in the 70s.
Those are high benchmarks.
We set the goal high, but it's gonna take time.
READ MORE: Spike Lee Was Right: 'Red Hook Summer' Will Hit Theaters in August
John Sayles is obviously one of the godfathers of independent film. What does it mean about how the indie business has shifted that films from Spike Lee and John Sayles are available to you?
That's a great question, and there are four thousand answers. I can go on for three hours. The one thing I'd like to think, and this is probably a little bit egotistical, but it's not that Variance is the only option for these films. There were offers on the table for both of them, as I understand things. Some were traditional and some were not. But I think that it's no coincidence that two of the biggest directors that have embraced us so far are John Sayles and Spike Lee, who are two of the godfathers of independent cinema. When I think of the people that started independent film, John and Spike are two of the names that come up right first in my mind and always have. I like to think that it's less that this is what they need to do with their film; it's that we can offer them a little bit of control. These aren't guys who are stymied about the distribution process. How many films have these guys released? These are hyper-intelligent people and hyper-intelligent filmmakers, and they pay attention when their film is getting distributed. They learn stuff, they ask the right questions. When we start working with them, they're not novices. They're very savvy about what has happened to their films in the past, the good and the bad, and they're very keen to be involved in decisions that are made along the process. We can offer that to a degree that a traditional studio — I don't want to say can't, but — can't!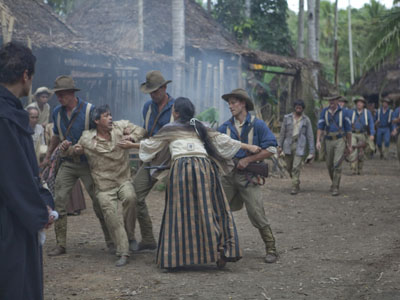 What's the toughest or most frustrating part of your business right now?
The one thing that is always going to be the case is, when I go to Sundance or when I go to South by Southwest or when I go to Berlin, I have made a conscious decision not to take on outside investors so that I have the freedom to do the films that I want and not have to worry about political ramifications and all that stuff. What I cannot do at this point in time without getting an investor with deep pockets is go to some place like Sundance and walk out of a screening of "Queen of Versailles" or "Beasts of the Southern Wild" and point at the film and say, "I want that one." I do it anyway, and sometimes I get laughed at by sales agents, which is reasonable! They're like, "Yeah, I've got five of the heads of the mini-majors in the hotel room at three in the morning. We appreciate your interest, Dylan, but on this one I'm going to make millions and millions of dollars." And we just don't do that. But as the business evolves and split-rights deals are a lot more common, there are plenty of studios that do a great job, but they can't release every movie.
Who do you see doing good things in this distribution space other than what you guys are up to? Do you see other promising, entrepreneurial or innovative distribution houses?
Oh, absolutely! You're always going to have people like Tom Quinn and Harvey Weinstein over at Radius, who are ahead of the curve. Bob Berney, whatever he winds up doing next is probably going to be innovative and intelligent. You've got the mini-guys. I think that Sony Classics and Magnolia have some of the best tastes of distributors out there. And then as far as the other end of things, I see a lot of filmmakers who — and I've told this to a couple filmmakers, I'm like, "Look, you don't need us on this title so much." If it's small enough and they have a good enough handle — someone like Alex Ross Perry on "The Color Wheel" or "Impolex." Then there are guys like Tugg, who we're going to work with, because we like working with smart people and we see it as very complimentary to our business. We're about to do a lot of good things with Tugg, and I think they're complimentary to each other. I really do believe in giving people choices, but I also believe in the theatrical experience. Not every film — let's say we turn down about 95% of the films that we're sent because it has to be something that is theatrical in nature — but if you can get that word of mouth going, I believe that's how independent film still grows.
What makes "Red Hook Summer" a worthy film for Variance, aside from Spike?
You go to the festivals, so you know what I'm talking about. You see movie after movie after movie, and you've got to hurry up and get out and get in the line for the next one. I sat down at Sundance and saw "Red Hook Summer," and I walked out and I had to stop. I had to go get a cup of coffee and sit in a coffee shop and think for an hour and a half. Because Spike is saying something, and it's something that I haven't heard from another filmmaker and I certainly haven't heard from someone with the volume on his voice that Spike has. He really is saying something with this movie. I'm thinking of all the ways that this message can get diluted or screwed up with the wrong marketing. I was sort of dumbfounded by it. I'm not saying it's a gut feeling, but when you walk out of a film and you feel like you've been punched in the stomach, you need to stop and think and say, "Is it something I can do something with? Is it something that we can help with?" We thought it was, obviously.
READ MORE: The Films of Spike Lee: A Retrospective
What is the message that he's trying to get across, as you see it?
Well, there's no way really to get that out unless you see the film, I hate to say it. It's not something you can condense into a sound bite. We have to do our best to interest audiences in it, and there are so many great angles. It's got a cast that includes first-timers, but it also has Clarke [Peters] from "The Wire," who gives a performance that in any justice-filled world would be Oscar-worthy. He's got a tough role to play, and I think he nails it. It's Spike Lee taking audiences back to Brooklyn for a hot summer and showing them that things have changed but they haven't all changed for the better. It's multi-faceted, so I can't give you a sound bite. You've got to see the movie!
It's also got, as with other of Spike's films, a bit of a controversial aspect to it, which depending on your view might help sell it to audiences. Was there any discussion with Spike about making cuts or changes to the film before release?
By a matter of policy, we don't do that. The way I look at it is, if you are a traditional distributor and this is your business, or if you produce films then that's your business, but we look at a film as a complete entity. When we see the film, we're like, "OK, this is the film." I often look at the films we have and say, "I wish it was five or ten minutes shorter here, I wish they had gone more into this…," but we just don't go down that road. What's that scene on "Veep" where she's saying, "If I were president…" and they're all like, "Don't go there." We don't go there. Now, Spike had some cuts of his own to make. We didn't weigh in on that. It's Spike's movie. You don't tell Spike Lee what to cut.
READ MORE: 'Do the Right Thing' on Broadway? Spike Lee Is Considering It
What are Spike's expectations in terms of the release of the movie?
Oh, you know, world domination! You gotta ask Spike! We're going to ride it until the wheels fall off. We're booked in 35 cities and rising, and it's going to be a pretty wide release. And we'll keep it going until the wheels fall off of it.
Are there any other details beyond that? Do you know how many theaters you're going to be in?
It releases August 10 in New York, and then we expand to six more markets on August 24, and then we expand to at least another 12 or 15 on the 31st. And then the film's going to play throughout September. We're going to make sure everybody who wants to see the film has a chance to get it to them. We are planning on make the film available through Tugg for places that we're not playing a full week. We want to make sure that if Spike's got a fan pocket that's fifty miles from the nearest theater that's going to play it, those guys are going to get to see the film as well.
What about VOD access?
The film is going to be playing with Image Entertainment for home video and VOD. That's going to come at a traditional holdback, you'll have to check with them on the release date. It's going to be either late this winter or early 2013. It's not going to be a day-and-date release. This is going to be a you've-got-to-go-to-the-theater-and-take-the-ride-with-a-group-of-people kind of thing.
What has been your most successful film to date so far?
As far as box office gross, "Ip Man 2." Great action movie that was 20 cities day-and-date, and the audience really responded to it, and that's gone on to crank. But for us, the one thing about Variance is that success can be measured in other ways besides box office. When you look at what we spend on some of the titles we release, "American: The Bill Hicks Story" is a great example — it grossed about $100,000 in theaters, which for a lot of films is not spectacular, but for the entirety of the release the budget was $22,000. And that when on to do $500,000-600,000 dollars on VOD, it was something insane. And then you look at a film like "Until the Light Takes Us," which is a great film that we managed to break out from black metal fans, do $130,000 in theaters off a less-than-$20,000 spend. Between us and the filmmakers, who are super dedicated, the film has gone on to have a very long life and we're still getting festival requests almost three years later.
That's the kind of thing we do. It's very important to me. We're not the typical — there are parallels to what we do in the old-school service deals, but that's really not how we roll. We don't set a maximum number of markets for the films we release. We act as if we are your distribution partner theatrically until the wheels fall off of the film, and probably after that. Which is why we're so picky about what we work on, because this is not a four-month relationship, this is often a two- or three-year thing that we do. "Amigo" is still in theaters right now.
Seriously? Where?
Let's see, it just played last weekend somewhere up in Vermont. I don't remember the town. (laughs) We've played over 85 runs with that film over the last 11 months, and it's going to keep going.
Do you have a release plan for "3, 2, 1… Frankie Go Boom" yet?
Absolutely. That is going to come pre-theatrical VOD through our friends at Gravitas, who we are partnering up on the film with. So on September 10 that goes on VOD. And then on October 12 the film is going to go ten cities theatrical day-and-date, and then we're going to keep it going until the wheels fall off. We're going to do some fun stuff with Tugg on that one as well, and we're just going to make sure that, while the film is available on VOD, because I am a theatrical guy we took on the film because I believe that people are going to want to get together and watch it late-night, sneak a bottle of gin into the theater with you, or vodka or — whatever, I drink gin like a fuckin' 70-year-old. You know, have a good time! The movie theater is my church, and we will continue to provide worship material for anyone who wants to join.
Sign Up: Stay on top of the latest breaking film and TV news! Sign up for our Email Newsletters here.