Rian Johnson burned a quick mark into the indie-film landscape when his writing-directing debut, the high school noir "Brick," had its premiere at Sundance in 2005. After fielding a special jury prize for his "originality of vision" and then several Independent Spirit nominations, Johnson took his follow-up, "The Brothers Bloom," to Toronto in 2008. Upon release the following year, "Bloom" disappeared without much of an audience, primarily because, despite their visual flair, Johnson's works thus far have been hard to classify.
He seems to have solved that problem with his latest, "Looper." Or has he? Is the time-travel, dueling-hitman action film — starring Bruce Willis, no less — a straightforward grab for mainstream favor? It sure reads that way on paper (and looks that way in the trailer). But then, there are reasons to believe that may be just half the story.
READ MORE: TIFF List 2012: A Complete List of All Films at the Toronto International Film Festival
"Looper" does also star Johnson's "Brick" lead Joseph Gordon-Levitt, who has since become an indie-film innovator able to maintain his cred even when showing up in studio blockbusters. And the film is science fiction, a genre, as Johnson points out below, that lends itself not just to aesthetic flights of fancy but also to bigger ideas and, should a filmmaker wish to indulge (hello, Terry Gilliam), truly idiosyncratic storytelling.
Which may be why FilmDistrict pushed it for the opening-night film slot of the 2012 Toronto International Film Festival. "Looper" has stars big enough to justify a flashy red carpet and a plot that appeals to the masses, but, behind it, there's a filmmaker with an original voice and festival bona fides. Johnson spoke to Indiewire not long after the fest announcement about how the festival world has changed since "Brick," his ambitions in making the film and whether Willis' bare ass has a role in it.
Congratulations on the Toronto slot. Are you finished with the film, or do you still have a few things to finish up on it?
We've been finished for months now. I haven't seen the movie in, like, three months, it's very strange. It's nice, actually, to have some distance from it before going out with it. There's something nice about that, but at the same time it can't come fast enough.
Does that window open up the temptation to tinker?
Oh, yeah it does, but you know that's saved by a movie that's locked. It would be very expensive to go back into it, and I'm supposed to be writing the next one. See, I'm fundamentally a lazy person. It's finished, I'm just gonna sit back and have lunch.
When you say you're working on a new one, you're working on a new original screenplay?
Yeah, I'm writing something right now, kind of in the early stages of working it out. Which is strange doing that before this one comes out, when you're still in the process of putting it out there, but it's just a matter of time to buffer yourself from that as much as you can and get your head in the right space.
It's not tied to "Looper," right?
No, no. It's a new thing.
Does Toronto seem like a good launching pad for "Looper?" And do you think a festival berth is the right strategy for this one?
Yeah, I think so. We did a lot of talking about it. Sony has been fantastic and they're gonna — it's strange for me, because it's the first time this will happen — they're doing a marketing push for the movie, they're putting it out wide. It's going to be put out like a big action movie. So Toronto, part of that was just wanting to make sure — because we knew we were going to put it out in that way and we were going to do everything we can to bring that audience in — that another audience didn't miss the film because of that. That we got it out there and got reactions from Toronto and got people seeing it and realizing that maybe there's more to it than the action element.
READ MORE: Oh, Canada: Toronto Film Festival Announces 2012 Canuck Titles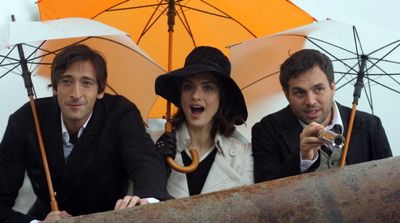 So I'm really thrilled to be back at Toronto. We went there with "Brothers Bloom," and I had a great time there, so it's just going to be fun. But for the movie, I'm really excited to show it to the festival crowd and put it in front of critics and get that reaction out there, as well as the trailers and all the posters and everything that Sony's doing.
That seems like a shrewd move, because some people may think, "Oh, it's a Bruce Willis action movie," but to show it at a festival that sort of lets people know it's still from the guy who made "Brick." The thing about "Bloom" was that Summit didn't release it until the spring, but this is firing the rocket right off.
Right on the heels of it, absolutely. Which I think is going to be great. Yeah, September is going to be crazy. We're doing a bunch of promotional stuff for it, screenings and everything, so it's going to be a fun month. But Toronto seems like the right way to go.
What's the key to making the most of that opening-night slot from your perspective as a filmmaker, or do you leave that to other people? Are there things you think about going into a situation like this?
Well, luckily we have — from Sony to Endgame to Film District to our publicity team — a lot of smart people who have done this a lot, the management of it all, and how you do screenings, how you do this, how you do that. We're doing the big opening-night gala. I think that same night we're having a screening of it, and it'll be a little more accessible for the public. At the end of the day, as a filmmaker my main perspective on it is, all those machinations and everything are good to do, and you want to do as much as you can to position yourselves right, but the movie is the movie. I really do just believe the movie will be put out there and people will react to it however they do, and it'll live or die based on the strength of that.
You feel as if your job is already done in that respect?
Yeah, well, again, you want to position yourself as best as you can and be smart about it, but at the end of the day I do think the movie lives or dies on its merits, and there's something both scary and liberating about that.
You took "Brick" to Sundance in 2005. What's your sense of the festival world now? You hear some complaints that it's been co-opted by movie companies that use it merely as a publicity tool. But is there still a place for original filmmaking? How have you seen that landscape change?
It varies. Definitely, it's very useful as a marketing tool to take your film around, especially with something like "Brick" or "Brothers Bloom," where we didn't have a marketing budget. Just getting it out there and getting people to see it so that the folks who like it would spread the word. But I know what you mean that with some festivals even bigger movies are starting to move in. The thing is, though, at every festival I've been to, the cool thing is to step into a screening of a tiny movie or local movie and see a theater full of people from the town that the festival's in, knowing nothing about the film in many instances. That inevitably happens, even if you have the big marquee things and the red carpet and all of that. There's also the smaller stuff happening, and that in and of itself would make it worth it.
And the other thing is, the festival has served a lot of different purposes. Everything from taking your film to try and sell it to taking your film to promote it, and then of course the audience going to it, there are buyers who are going, there are regular folks going. You can look at any specific part of it, and if there's a part you don't like you can bemoan that, but the festival circuit is a pretty multi-faceted place that for every one thing you look at that doesn't appeal to you, there are still other aspects of it that are good.
Do you have anything special planned for opening night?
We'll have a party. (laughs) And I'm gonna have twenty extended family members there. The Johnsons are going to be out in full force.
Wow, you're stocking the opener.
I am, exactly. When you hear the cheers, that's gonna be all of us.
You're obviously going to be tied up in promoting "Looper," but are there other films you're going to try and see up there?
I hope so. There's so much stuff up there I wanna see. "The Master" first and foremost. That's at the top of everybody's list. Really curious about "Cloud Atlas." "Argo" looks really cool. I'm curious about "Seven Psychopaths." There's a ton of movies up there I want to see. This is the problem as a filmmaker going to festivals, is they usually fly you in the night before, you have your day of press, you have your screening that night, then they fly you out the morning after, so the best you can do usually is just ask the film journalists you talk to what's good so you can see it when it comes to LA. But I'm hoping with this one I can stick around a few days because there's so much good stuff up there.
After this one hits huge, you can demand a condo for two weeks.
Along with my Champagne bath. That's it, you only get one shot.
Can you give me one specific nugget from "Looper" that answers the question, "Why would someone come to see it?"
We tried to make a really grounded, cool science fiction movie that is entertaining in every way. It's got the action stuff, but it's also got a little bit more to chew on, and I think especially with sci-fi movies, those are the ones that I love. Movies like "12 Monkeys" or "Blade Runner." I don't want to sound like I'm comparing my movie to those…
Yeah, you just gave me my headline: "Rian Johnson thinks he's Ridley Scott."
No, we are nowhere near those guys. But when you swing at that ball that's what you're aspiring to is to do some thing like that. And I would say that it's everything you'd expect a time-travel movie with Bruce Willis to be, but it's also got more to chew on there than you might expect.
Well, if it's got everything I would expect about Willis, am I going to see bare ass?
You do not see his bare ass, no. Shit, I fucking forgot. I apologize. I'm sorry. I let you down… Yeah, that was such a bad pitch, I'm realizing why we pay our marketing people so much. That was terrible. Don't listen to me, just watch the trailer.
Read More of Indiewire's Extensive Toronto Film Festival Coverage
Sign Up: Stay on top of the latest breaking film and TV news! Sign up for our Email Newsletters here.