Hal Fields (Christopher Plummer) from "Beginners" (2010)
Christopher Plummer would no doubt win a best dad prize for any number of his films, particularly as the gruff yet loving singer Captain Von Trapp from "The Sound of Music." But in Mike Mills' touching "Beginners," Plummer's Hal Fields finds solace in his parenting skills when he decides to pursue his true self. "Beginners" follows two charming story lines: one is of Ewan McGregor's Oliver, a 30-something man who begins a relationship with an illusive French actress, and the other is of Hal who, after his wife's death after many years of marriage, finally comes out of the closet. A diagnosis of lung cancer comes just as Hal begins to live the life he wants. But despite struggling with his illness, Hal has never been happier and his outlook on life eventually rubs off on his melancholy son. A more adorable father-son pair was never found outside these two actors, and "Beginners" offers a father figure that any dad can aspire to become, even later in life.
Alfredo (Philippe Noiret) from "Cinema Paradiso" (1988)
The most rewarding relationships work both ways. Just as Alfredo took over the role of raising Savatore, the boy was crucial in raising the man. Be it by helping in school or teaching the craft of film projection, Toto and his father figure proved there for one another over the many decades that "Cinema Paradiso" covers. Just as any good father must, Alfredo readies Toto to leave for the real world beyond their small Italian town, and encourages him to make a life for himself. Connected by a mutual love for the movies, Alfredo even has a last gift for Toto even after he has passed on, creating one of the most touching moments to have graced the big screen.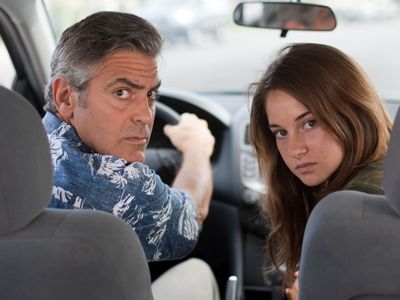 Matt King (George Clooney) from "The Descendants" (2011)
The moment at which this father became most important in his daughters' lives is when they lost their mother. This tragic premise occurs in the opening moments of Alexander Payne's "The Descendants." Matt King is face with heading a massive real estate transaction, coping with his wife's impending death and coping with her infidelity, but none of that is as much of a challenge as is raising two troublesome girls. He does so with composure and compassion, remaining assertive while sympathetic with his daughters. The scenes in which Matt must assume the role of a father above all else are carried by Clooney's touching performance, one that cemented his reputation as much more than just a movie star.
Mac MacGuff (J.K. Simmons) from "Juno" (2007)

"Paulie Bleeker? I didn't think he had it in him." Considering the circumstances — i.e. learning of his teenage daughter's pregnancy — the fact that Mac McGuff chooses to make a joke proves that he is one helluva good-humored dad (and they're pretty hard to find). As most of the characters around him go through highs and lows, Papa McGuff, played by J.K. Simmons, keeps his cool — perhaps embodying the film's message of flexibility and adaptability more than any of his onscreen counterparts.
King George VI (Colin Firth) from "The King's Speech" (2010)
Her Majesty the Queen approved of Colin Firth's portrayal of her father, the late King George VI. Beyond his role as father to Queen Elizabeth and Princess Margaret, however, King George VI was father to the people of Great Britain during World War II. He was their beacon of hope during the darkest of times and the story of his struggle to overcome a stutter demonstrates a strength that existed within him all along.
Guido (Roberto Benigni) From "Life is Beautiful" (1997)
A comedy about the Holocaust? Somehow it works in this Best Foreign Language Oscar winner. When Nazi law infiltrates Italy, a Jewish man named Guido (writer/director Benigni) and his young son are hauled off to a concentration camp. Guido then concocts a lavish scheme to prevent his son from figuring out exactly where they are, what is going on and just how much danger they are in. This film is essentially cut into two halves, with Guido's hilarious wooing of his future wife Dora (Nicoletta Braschi) taking up the first half, and the dramatic, yet somehow still funny, concentration camp sequences comprising the second. Fans of this film not only love its combination of extreme laughter and intense tears, they're also moved by the extreme lengths that a father would go to for a child. When the war ends, and Guido's son has survived, we know that it was all worth it.
Johnny Marco (Stephen Dorff) in "Somewhere" (2010)
Sofia Coppola has either spent her life in the spotlight or on the outskirts of it. In her 2010 feature "Somewhere" she explores the relationship between a fading, alcoholic movie star, played by Stephen Dorff, and his young daughter, the always miraculous Elle Fanning. Dorff's character resides at the famed Chateau Marmont, where he spends his days boozing, sleeping around and, well, just sleeping. But when his ex-wife suddenly pushes their daughter on him, he's forced to change his lifestyle. It's a typical Coppola-esque film: slow, atmospheric, with little dialogue. Still, Dorff's character is a complex study. He's a man who rises above his indifference and passivity to care for the child he clearly loves. There's a scene in the film when he watches her ice skating and one can sense his devotion in his eyes. Yes, the storyline may be simple and predictable, but Coppola's intimate knowledge of celebrity, along with her own personal experiences growing up with a famous father, make Dorff's a great dad to root for this Father's Day.

And 5 of the worst…

Bill Maplewood (Dylan Baker) from "Happiness" (1998)
It's probably bad to open this with a vague sort of defense of "Happiness"'s notorious pedophile, played by Dylan Baker. But when Bill, after having raped two of his son's classmates, is asked by his son if he'd ever abuse him, Bill says no, he wouldn't. "I jerk off instead," he said. That's as close to redemption as the character gets — the man is a predatory monster, and Dylan Baker's performance is so convincing that 16 years later, it's still hard to see the man play a decent human being in other films and TV shows. Never trust Dylan Baker. Never let him babysit.
Hank Grotowski (Billy Bob Thornton) from "Monster's Ball" (2001)
The two single parents at the center of Marc Forster's grim drama "Monster's Ball," played by Halle Berry and Billy Bob Thornton, aren't the easiest to warm to. Following two devastating losses, the duo come together and in turn become better people, but Thornton's character is still not one we'd wish on anyone as a father. Hank Grotowski and his son, Sonny (played by Heath Ledger), both work as corrections officers in a Georgia State Prison. When Sonny suffers from a mild breakdown while leading a convicted murder to his execution, Hank confronts his son in a bathroom and proceeds to beat the crap out of him for being too "soft." Later, Hank admits to Sonny that he's always in fact hated him, prompting Sonny to shoot himself in the heart. You'd think Hank would feel…you know…remorse. Nope. Instead he buries his son in the back garden with no real funeral and calls his late boy "weak." Again, not a dad you'd want.

Hackman may not have been the best father — having only one of your four immediate family members like you is not a good batting average — but he did make for a fun grandfather. He taught little Ari and Uzi all the things he never showed Chaz, including how to gamble (on dog fighting) and the best way to steal from your local convenience store. The three of them riding on the back of the garbage truck will forever be an iconic image of youthful, rebellious joy — and Chaz's pop-in late in the movie reminds us of Royal's decades-long status as an absentee dad. Royal is as sneakily lovable as he is culpable for his children's disconnected nature. Never forget.
Daniel Plainview (Daniel Day Lewis) from "There Will Be Blood" (2007)
Daniel Day Lewis' Daniel Plainview is as rotten as they come. In Paul Thomas Anderson's riveting "There Will Be Blood," Lewis plays a money-hungry oil man who gets lucky digging in rural California. In the beginning of the film, before his wealth and notoriety, we see him adopt a baby, the son of a fellow worker who died in a mining accident. Nevertheless, we soon come to learn that Plainview is no saint. He only uses the boy to give off the impression that he is a family man. To make matters worse, when his son goes deaf after an explosion, Plainview sends him away, deeming him useless. He's a horrible father and a horrible human being and Anderson takes a risk creating a protagonist beyond sympathy or redemption.
Mr. O'Brien (Brad Pitt) from "The Tree of Life" (2011)
Take what you will from Terrence Malick's all-encompassing allegory featuring dinosaurs, the cosmos, and many, many trees, but we all can agree on one thing: Mr. O'Brien messed up his kids up good. As played by Brad Pitt, the borderline mentally and physically abusive father ("You are not to call me 'Dad'.") takes things to an extreme culturally acceptable in the '50s-set period of the story. But this disconnected father/son drama shows key moments via extended flashbacks explaining why Jack ended up a lost, despondent architect as portrayed by Sean Penn — and why his brother ended up dead. Turns out embodying natural selection doesn't lend itself to representing a loving parent.
Sign Up: Stay on top of the latest breaking film and TV news! Sign up for our Email Newsletters here.