Ten years ago, a little indie comedy shot in Idaho burst into the mainstream and made Napoleon Dynamite a household name. The hilarious story of an awkward high schooler, created by screenwriters Jared and Jerusha Hess and brilliantly embodied by then unknown actor Jon Heder, turned out to be the sleeper hit of the summer of 2004. In honor of tomorrow's ten year anniversary of "Napoleon Dynamite," we've compiled a list of our most favorite lines from the film that we still use to this day, whether or not the situation is appropriate. Bust out a line from "Napoleon Dynamite" in an awkward or funny moment, there's a good chance someone knows exactly what you're talking about…and knows the next line after it.
1. "Tina you fat lard come get some dinner. Tina! Eat the FOOD!"-Napoleon (Jon Heder)
To this day, if I'm making dinner for someone, I will announce that it's ready by calling them the name of a llama, shoving a spoonful of my cooking in their face and yelling at them to eat their food. I mean, as a host, it's the polite thing to do.

2. "Your mom goes to college!"-Kip (Aaron Ruell)
Poor, innocent Deb (Tina Majorino) was just trying to earn some money for college by selling her glamour shots. Kip was clearly jealous, but there's no better way of insulting someone than with a "your mom" joke. Unfortunately for him, Kip doesn't really know how they work. Thankfully for us, shouting, "Your mom goes to college" either leaves the person on the receiving end confused — or it completely cracks them up. Win win for the insulter.

3. "What are you going to do today, Napoleon?"-Kid on bus
"Whatever I feel like I wanna do GOSH!"-Napoleon
Sometimes life is hard and you have to wake up in the morning and do awful, adult things like go to work, do laundry, and pay bills. But maybe sometimes you just don't feel like it. So when some blowhard asks you what you're going to do with your day (implying that anything other that total productiveness would be a waste of your life), you tell 'em "Whatever I feel like, GOSH!" and proceed down a never ending spiral of Netflix.
4. "Napoleon, don't be jealous that I've been chatting online with babes all day. Besides, we both know that I'm training to be a cage fighter."-Kip
I'm super jealous of Kip. I mean, who else gets to sit at home all day surfing the internet? The only thing I'm not jealous of is his phone bill, with his totally '90s AOL connection plan.

5. "Peace out."-Kip
The transformation of Kip from dorky white boy to hip hop aficionado thanks to internet lady love LaFawnduh (Shondrella Avery) provides some pretty funny fodder. His transition is complete when his genuine expression of love for LaFawnduh and assurance that Napoleon will find his other half ("LaFawnduh is the best thing that has ever happened to me. I'm 100% positive she's my soul mate. Don't worry Napoleon, I'm sure there's a babe out there for you too.") is topped off by an extremely awkward peace sign flash and totally out of character send-off. When repeating this line in really life, you absolutely must use Kip's epic lisp.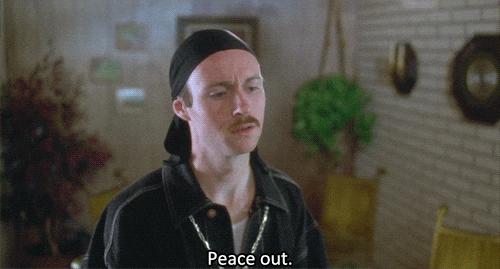 6. "You gonna eat your tots?"-Napoleon
Personally, if someone has something delicious looking on their plate and it doesn't look like they're going to eat it, I ask them if they're going to eat their tots. They might not understand what the hell I'm asking about, as many times they don't have any tots. But eventually I get some free food out of it.

7. This entire exchange:
Don: "Hey Napoleon. What did you do last summer again?"
Napoleon: "I told you! I spent it with my uncle in Alaska hunting wolverines!"
Don: "Did you shoot any?"
Napoleon: "Yes, like 50 of 'em! They kept trying to attack my cousins, what the heck would you do in a situation
like that?!"
Don: "What kind of gun did you use?"
Napoleon: "A freaking' 12- gauge, what do you think?!"
Any of Napoleon's lines are appropriate to use when trying to make your weekend, summer vacation or life in general sound more interesting than it actually is.
8. "I see you're drinking 1%. Is that 'cause you think you're fat? 'Cause you're not. You could totally be drinking whole if you wanted to."-Napoleon to Deb.
Poor Deb can't catch a break. She's just trying to enjoy her bland ass sandwich and drink some 1% milk. She knows drinking whole is like sucking directly on a cow's udder, but judging from Napoleon's expertise in milk tasting, he probably doesn't mind. Way to be a tool, Napoleon. Then again it's a good line to use on that one friend everyone has. You know, the one who always orders a salad.
9. "I don't even have any good skills. You know like nunchuck skills, bow hunting skills, computer hacking skills. Girls only want boyfriends who have great skills!"-Napoleon.
We feel you, bro. This is the perfect line to use when you didn't get that great job interview, or life has dealt you a series of unfortunate lemons, like a bad breakup or a broken colored pencil.
Sign Up: Stay on top of the latest breaking film and TV news! Sign up for our Email Newsletters here.