This piece is part of Indiewire and the Film Society of Lincoln Center's Critics Academy at the Locarno Film Festival. Click here to read all of the Academy's work.
It began as the setup to a joke. In a 1985 entry in Alison Bechdel's long-running comic strip "Dykes to Watch Out For," a woman outlines the parameters of "The Rule" for choosing a film to watch, as she and her companion leave a movie theatre: 1) It has to have at least two women in it, 2) They have to talk to each other… 3) …about something other than a man. The punchline being the only movie she's been able to see in recent years is "Alien."
In the thirty years that have passed since Bechdel's dykes rapped about Ellen Ripley, the "Rule" has been co-opted and codified as the "The Bechdel Test," a benchmark for determining a film's worth as a positive representation of women. It has been the subject of countless thinkpieces, Tumblr memes, Twitter debates, Buzzfeed infographics — endlessly shareable, likeable, retweetable, rebloggable, Pinteresting, Reddit-ready, and whatever-one-does-on-Google Plus-able. In 2013, the Bechdel Test achieved institutional legitimacy, when four independent Swedish cinemas introduced a ratings system based on the three criteria listed above. Those that pass receive an "A" grade.
This is a problem. The rigor of feminist critique has turned into a pass/fail game. Googling "Bechdel" calls up countless lists with headlines like "You Won't Believe Which Movies Fail The Bechdel Test" or "10 Surprising Popular Films that Pass the Bechdel Test," accompanied with little critical response outside explaining the test results. Some online discourse has gone into defending movies that fail Bechdel, "Run Lola Run," "Star Wars," and a handful of Claire Denis films among them, as not being necessarily bad or anti-feminist. (Princess Leia fans can breathe a collective sigh of relief.) But the overwhelming consensus is that straight "A's" are the ideal.
Passing, however, does not a female-positive film make. Take two offerings from the most recent iteration of the Locarno Film Festival. Andrea Staka's "Cure: The Life of Another" and
Olivier Assayas
' "
Clouds of Sils Maria
" deal with multiple female characters who interact with each for significant parts of the plot. Both deal in identity politics, meta-commentary, loss, and mysterious disappearances. And male characters are either incidental or only occasionally mentioned. That is, both pass the Test with flying colors.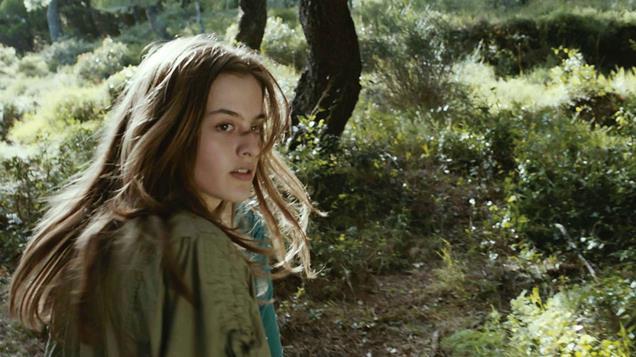 But in terms of quality engagement with female stories and characters, equal they ain't. Staka's "Cure: The Life of Another" suffers from poorly sketched out characters. Based on a true story, set in 1993 besieged Sarajevo, "Cure" finds high school friends Linda (a German-Swiss émigré played by Sylvie Marinkovic) and Eta (Lucija Radulovic as a native Bosnian) walking in the mountain paths surrounding the city. When an accidental scuffle leads to Eta falling from a beachside cliff, Linda ingratiates herself with Eta's family, as either an act of absolution or guilt. Eta's grandmother (Mirjana Karanovic) eagerly takes Linda under her wing as her ersatz grandchild (calling Linda by her dead granddaughter's name), while Eta's mother (Marija Skaricic) can barely stand to look at the girl who last saw her daughter alive.
It strives to be a Lynchian persona-swap, but with a main character so passive she remains a cipher. Linda's spare characterization is likely supposed to be a socio-political comment on untenable status of Swiss immigrants in the Balkans, but such ambitions are hindered by callow performances. When the moment finally comes in which the young female protagonist has her "regaining agency" moment and decides to no longer play the grandmother's game, it comes off as cliché, calculated, and too little too late.
Assayas' "Clouds of Sil Maria," on the other hand, has far more compelling things to say about female identity. Juliette Binoche plays acclaimed actress Marie Enders, who has been given the opportunity to star in a revival of the play that made her famous — this time in the role of the older woman rather than the ingénue. Marie struggles with finding a way into the mindset of a character she once found loathsome. While staying in a chalet in the Sils Maria (where the play was written and takes place) she rehearses scenes with her personal assistant Valentine (
Kristen Stewart
). As Valentine and Marie argue over their interpretations of the play, it sparks an ongoing discussion about youth, aging, memory, superstition and fame. The casting is self-referential and smart: When Marie complains about the uncouth habits of her soon-to-be co-star (Chloë Grace Moretz), Valentine's defense mirrors arguments in favor of Stewart's own uncompromising off-camera persona.
Proponents of the Bechdel Test, Alison Bechdel among them, are aware of its limits, but tend to agree that it is a good place to start a conversation. And indeed, it can be useful for identifying patterns with the types of scripts being produced in Hollywood and abroad. But ascribing this evaluative criteria after a film has been made does little to solve the wider systemic problems at work. And I certainly hope we are capable having nuanced and articulate discussions about women in film without always feeling the need to ace the Test.
Sign Up: Stay on top of the latest breaking film and TV news! Sign up for our Email Newsletters here.