Not enough people realized it, but Robin Williams took a lot of risks. It was a sneaky gamble. He radiated profundity, warmth and melancholia, often all at once, but usually couched the unlikely combo in a gag. In several dramatic performances, Williams proved he could do serious just as well as funny — yet even when he was just funny, the serious stuff crept in anyway.
READ MORE: Academy Award-Winning Actor and Comedian Robin Williams Has Died of Suicide at 63
Evaluating his role in the under-seen comedy "The Survivors," The New Yorker critic Pauline Kael wrote that "Williams' work transcends the film's flaws…He acts with an emotional purity that I can't pretend to understand."
She spoke for the masses. Williams, however, only spoke for himself.
"The real joy lies outside the crowd's reception," he told me in 2009. The occasion was promotional duties for "World's Greatest Dad," one of Williams' last truly fascinating performances. Directed by the actor's close pal and fellow standup survivor Bobcat Goldthwait, the comedy featured a peculiar blend of absurdity and sadness that perfectly matched Williams' strengths.
At its center was a twisted premise involving single dad and failed writer Lance Clayton (Williams), who covers for his teen son's accidental death while masturbating by pretending it was a suicide. Eventually, Lance exploits the situation by passing off his own writings as the scribblings of his dead kid, providing a sympathetic context for his work to receive the acclaim he could never find before. It might seem crass to draw parallels between this wicked premise and Williams' own troubled life, especially so close to his death, but Lance's scheme of directing a bleak situation to a victorious outcome echoed aspects of the actor's unique ability.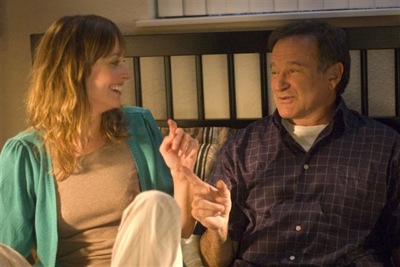 But the movies couldn't contain Williams' entire potential. His standup routine was a jittery, relentless engine of imitations and asides. His delivery had the momentum of a rollercoaster in which every drop felt like a new direction even though the ride itself was familiar. He was like his own real-time editor, crafting a form of verbal montage that simultaneously flew in countless directions and adhered to the singular rationale of his restless mind.
In the movies, Williams often hinted at this distinct energy hiding just beneath the surface and battling to burst out. Even his restrained performances, from "Good Will Hunting" to a fleeting bit on "Louie," suggested a maniacal ingredient percolating beneath the quieter moments.
While many remembrances of Williams have appropriately focused on his legendary stature in the comedy field, as a screen actor, Williams funneled the roots of his comedy into more intangible directions. It's harder to qualify his cinematic talent in precise terms, but it has something to do with directing a fundamental likability toward naughtier possibilities. He fell short of pushing subversive intentions to the mainstream, but he certainly managed to mess with conventional expectations.
Which is what makes "World's Greatest Dad" such a monumental late period turn. Williams' character grins and giggles his way to success, at one point barely able to keep a straight face while speaking to an interviewer about his apparent bereavement over his son's death. He tries desperately to pass off his laughter as tears; the result is an unseemly and hilarious combination of both. That was the epitome of Williams' striking talent.
In the movie's climax, having confessed his sins to the entire cast, Lance runs down the school hallway in slo-mo while stripping nude, then leaps triumphantly into the swimming pool to the tune of Queen's "Under Pressure." Forget for a moment that the sequence overstays its welcome and focus on Williams' face: Like the scene itself, the actor's expression has a zany, liberated quality even as it remains tethered to a glum foundation. He's just one step shy of winking his way out of another bad situation.
That's the unique predicament at the root of a career defined in equal measures by tragedy and catharsis. Williams' struggles were epitomized by his performances, and no matter which ones stand out on their own merits, collectively they illustrate an unsuspecting sacrifice of stability for the sake of art. Viewed in retrospect, it may prove to be his last great punchline.
https://www.youtube.com/watch?v=0M9UCLchcDk
Sign Up: Stay on top of the latest breaking film and TV news! Sign up for our Email Newsletters here.