The Birth of 'The Bad Lieutenant'

Terence McDonagh is a bad cop from the start. In the film's first scene, he flips through pictures of a colleague's naked wife and keeps them, even when he wasn't the man sent to retrieve them in the first place. He's a gambling addict to boot. Terry needs the risk so bad he's willing to bet whether a man lives or dies drowning in a flooding jail cell post-Katrina. Fifty dollars isn't enough of a wager either. He wants a "dime."
But, when push comes to shove, Terence tries to do the right thing, jumping down into snake-infested waters to open the cell door of an inmate begging for his life. In the process, he permanently damages his spine and is forced to live the rest of his life in perpetual pain. He's been punished for doing the right thing, and as the movie progresses, we see him repeatedly rewarded for doing the exact opposite.
Every time Terry breaks bad, things seem to work out. When he does the right thing, they turn out wrong. His bad behavior — from cutting off a crippled old woman's oxygen to trading sex for freedom with a young woman — is repeatedly reinforced. It's an obvious trajectory once the film ends, especially in the fitfully hilarious parade of Terry's former enemies showing up at police headquarters to make things right with the man who's suddenly in their good graces (never forget Vondie Curtis-Hall leaning over Terry's desk with the "good news").
The Post-Katrina New Orleans Allegory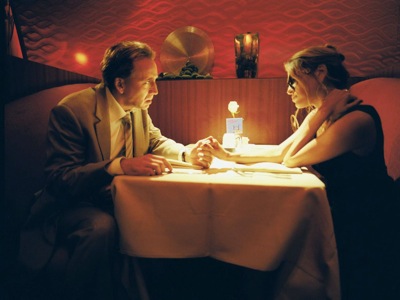 But why does Terry get away with everything? Why should he be rewarded for doing what's wrong, outside of the obvious delight Herzog takes in watching madness take over his subjects (a delight which is graciously passed on to his viewers in this and the director's other films like "Grizzly Man" and "Fitzcarraldo")? It may just be the story that's being told — a man unraveling in the face of overwhelming odds — but the confusing title, which multiple critics admit to not understanding, lends itself to another explanation: Terry represents the bureaucracy that ruined New Orleans before and after Hurricane Katrina, a city brought to a breaking point by powerful white men ruining the lives of its primarily black citizens.
In 2009, we were only four years removed from the costliest natural disaster in the history of America. Complaints were vehemently raised during this time regarding the construction of the levees, federal policy for disaster relief, and even George W. Bush (most memorably by Kanye West, who said Bush "doesn't care about black people"). The city became a hot button issue not soon forgotten. "Treme," a show from political activist and award-winning writer David Simon (who dealt with Baltimore's racial upheaval in "The Wire"), spent four seasons chronicling the fictional lives of New Orleans residents who felt abandoned by the institutions meant to protect them, starting just three weeks after the storm hit.
So where does "The Bad Lieutenant" fit into this scenario? As a blacker than black comedy, Terry's character paints the picture of a city being brought down again and again by people who are never held responsible for their actions. He uses the system for his own personal gain, cutting costs where he can and dismissing human beings like tertiary characters once they're of no use to him. It's comical how easily he gets away with his disturbing crimes, a metaphor many may relate to how the government dealt (or failed to deal with) the "man-made catastrophe" caused by Hurricane Katrina. Werner Herzog's "Bad Lieutenant" is a film very much about the lives of New Orleans' citizens, an exaggerated comic outlet for a nation upset with power being placed in the wrong hands.
'Bad' Brings Out the Good in Nicolas Cage
For all that was wrong with both the metaphorical and actual actions of Lieutenant McDonagh, Nicolas Cage played every beat exactly right. The Oscar-winning actor has gone off the deep end with intense characters more times than are socially acceptable. (His once substantial box office clout is dropping like a brick.) Not here. Under Herzog's watchful eye, Cage's performance is one for the history books when it comes to chronicling character progression.
Cage takes Terry from a bad, but not broken place (gambling addict who still does the right thing) to a drug-addicted mess of a man who's slowly losing his soul. We watch as he becomes first drug dependent, then an addict, then a junkie, then a hallucinating whack job wielding a gun and a badge. Cage takes each stage beat by beat. It's a calculated, well-paced performance from a man who's certainly coasted through his share of garbage roles.
One intriguing aspect in particular are his choices when it comes to control. Yes, he moves differently depending on his pain/level of sobriety. Yes, he manages to do so without turning into some award-chasing hunchback. Yes, that alone is impressive. But his accent gives me the most joy. Cage uses his standard vocal patterns to start the film, but occasionally breaks into a sickening Naw-Ohlahns drawl when backed into a corner. It doesn't have anything to do with his drug addiction — it only surfaces when Terry feels weak and cornered. It gets worse as he thinks he's losing control, and better the second he mentally (or actually) regains it. It's a fascinating turn, and an important reminder of what Cage can do when handled properly.
"What are these fucking iguanas doing on my coffee table?"
It wouldn't be a Werner Herzog film without the seemingly inexplicable yet shockingly pleasurable inclusion of a random animal. In this case, it's an iguana. Terry may say he has a lucky crack pipe, but that's just to get Big Fate's DNA so he can convict him of the crime he really did commit. Really, Terry has lucky iguanas. Reptiles in general, really.
Our first encounter with the creepy crawlers comes when a snake slithers through the flooded jail cell in the opening frame. This encounter doesn't end well for Terry, arguably ruining his life and sending him down the path from breaking to broken. Yet as a metaphor, it fits. A snake has always been the symbol of evil. Jumping into a flooded pit of them was asking for trouble. Next, we see a dead alligator. Anything dead rarely indicates something good is about to happen, and indeed the alligator caused a wreck for both the unknown driver of the flipped car and Terry's attempt to get a parking ticket taken care of for his bookie's kid. Still, the "lady cop" he meets eventually follows through, so it works out okay (a dead alligator is not as bad as a living snake).
Finally, we come to Terence's favorite creature, an iguana. Upon first meeting them, he's pissed off. Why? Within the diegetic framework of the film, he's high as a freaking kite. He's tripping and is imagining the iguanas, so is naturally upset at their inexplicable presence. Metaphorically, he's mad because up to this point in his life, reptiles have indicated bad news a comin'. Then, while Stevie (Val Kilmer) watches in frustrated benevolence, Terence smiles at the beady-eyed creatures, coming to accept them as a permanent staple in his life. Herzog gets close to the intriguing creature and we watch Cage sheepishly grin at them, as if he was about to say, "Aw, how cute. They're not so bad after all."
This theory can be translated to fish as well, the animals that bookend the film as Terry finds one in a cup at the shooting victim's home and later takes his stoned ex-prisoner to an aquarium to end the film. "You think fish have dreams?" Terence asks, almost to himself. Fittingly, he gives the only answer: a smile and small chuckle just before we fade to black. Terry, despite everything, has found a moment of joy derived not from his deviant exploits — though breaking the sobriety streak of a man indebted to him surely wasn't nice. Still, it's an oddly poignant and comical moment to end a film able to be read both ways. It's up you whether that's good or bad.
This article originally listed Herzog's age as 74. It has since been corrected.
Sign Up: Stay on top of the latest breaking film and TV news! Sign up for our Email Newsletters here.