Since falling down the rabbit hole for Tim Burton in "
Alice in Wonderland
," Australian actress
Mia Wasikowska
has kept busy collaborating with other singular filmmakers in films that couldn't be more dissimilar. This year alone she's appeared in a vampire romance (Jim Jarmusch's "Only Lovers Left Alive"), a Terry Gilliam-esque dystopian drama (Richard Ayoade's "The Double") and a life affirming biopic (John Curran's "
Tracks
").
"Tracks" is the most recent of the bunch, having just opened last Friday. In it, Wasikowska plays fellow Aussie Robyn Davidson, who in 1977 undertook a 1,700 mile trek across the deserts of West Australia with four camels and her faithful dog. Indiewire sat down with the actress in New York to discuss the journey of making the film and why she'll soon be returning to blockbuster territory with the upcoming sequel to "Alice in Wonderland."
The film premiered over a year ago in Venice. Is the experience of making "Tracks" still fresh in your mind?
I guess so 'cause it was probably a year and a half, almost two years ago now! But it's strange to say that because it feels like it was just like a couple of weeks ago. It was great. I hadn't shot in Australia since I was 17, so it was the first thing I'd done in a really long time. So it was really nice for that reason.
Did you explore parts of Australia that you'd never been to before, in making "Tracks"?
Yeah, we would more as a family go to the coast, but I've never really been to the Australian desert until we did this film. So it was nice to actually explore parts of my own country.
Did that play into why you wanted to take on the project?
No, I just really liked the role. I really liked her and I read the script before I read the book. I felt like I really understood her even just from that and it was very sparse — the script changed numerous times. The first one I read was very sparse and simple, but I found it really, really emotional even though it was very simple.
There's very little exposition in the film. Robyn never goes so far as to explain in blunt terms why she chose to embark on the trek.
She's never really explicitly said why she did the journey, but that's totally for her to answer. I think people respond really differently to the circumstances of their lives; the traumas, or the hardships or even the good things. This idea that she just wanted to kind of simplify her existence and put herself in a situation where it brought her back to the basics of survival basically, which was just walking and attending to your needs in the moment. I can totally understand why you'd want to just simply things and get rid of the noise and get rid of the expectations — and just bring it back to: am I hungry right now? Do I make food? Just really basic survival.
As an actress I'm guessing you could relate to that need to rid yourself of noise and expectations.
I guess so. It's nice when you're a teenager. You feel like, oh, every year you can reinvent everything — not that like I'm old by any means but the nice thing about youth, or feeling young, is that you feel like, "Oh cool! I can do this now." I love that feeling, and maybe it gets less and less as you solidify your identity and you form links to people and places. I think like everybody has that feeling of being like, what if I do this? Or having some big thing that they want to do, like go to China for a year. But it's stupid to compare it to making a movie 'cause it's not all a journey.
Was this the most difficult shoot of your career given the harsh conditions of the outback?
It was sort of difficult for obvious reasons: the environment, the harsh landscape and the sun. We forget how much we need shade. The first couple of days took a lot of energy, being in the heat, wanting to always close your eyes. But you kind of adapt and it feels fine. I feel like I kind of get credit for what Robyn did. I just sort of faked it and did like the faux version. I think what she did, it's incredible and difficult. She thinks the film version would've been harder.
Why is that?
You don't really get the release. The thing is, I guess when you are walking in the desert on your own, you might have this sense that you are accomplishing something and there's also this freedom. Sometimes there would be days when I was like, "Why can't we do this without the cameras?" You don't quite get that sense of peace. They are two completely different things.
You've led your fair share of films, but never quite in this way. So much of the film is you alone in the desert. Did you feel pressure carrying the weight of "Tracks"?
A little bit. It was quite a stressful film because the script was sort of changing a lot. I mean that is always unsettling because you kind of aren't totally sure what the thing is. The danger is that you lose track of what the actual journey is and what the moment is that you're shooting that day, or what it needs to be in the scheme of the film. I guess that's kind of stressful, but often that's the case now, you're getting new script pages the entire way through a film. It doesn't feel like you have a set script anymore. It feels like it's always changing. It's like a little bit of pressure because I was always pushing to say less and John always wanted to say more, so we were always coming up against each other in terms of each other's anxiety… my anxiety about it being over explanatory and his anxiety about it being under explanatory. We were always trying to find the middle ground.
I fell in love with your camels. How much time did you have with them before going on to set?
I did like a three day camel boot camp.
That's it, three days?
Yeah, it wasn't long.
Robyn trained the camels for months before embarking on her journey. I'm impressed.
Thank you. I met her when we went to do this three day bootcamp thing with our camelier and it was really cool. It was nice because people have different approaches to the camels. Some people are quite harsh with them. She's very like sensitive to them and so it was nice learning from her perspective how she relates to them. They are really sweet animals, they're super funny and they've got very individual personalities. You're not used to associating big animals with something that you can approach, touch and cuddle. You more like think of giraffes or elephants that you have to keep away from a little bit, so it was strange to be around them and to be able to be very tactile with them.
What scared you more? Working with snakes of camels? That scene where the snake slithers up your body while you sleep is terrifying.
I guess the wild camel because the snake, they just brought it on the day and were like, "Which one do you like best?" They were like seven different snakes and I maybe held one ages ago, but I don't like love snakes.
Few people do.
(laughs) But then when I was holding it it was fine and it was amazing because it's such an odd sensation to have it kind of pulsing over your hands. You kind of just get a bit zen. It was just supposed to slide across my body, but it obviously went for my jugular.
You survived the snake encounter. Did you sustain any injuries on set?
No, I don't think so. I was taken very good care of. I have very fair skin so I just kept sunscreen on me constantly, which was great.
What did they do to make you look so dirty?
They just put dirt on me, just good old fashioned dirt. I'd walk in to the makeup trailer and they'd pile a whole load of dirt on me and they'd kick me out.
So you showered at the end of every night?
Yes.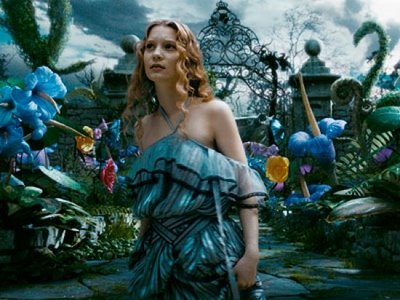 You're about to shoot the sequel to "Alice in Wonderland," the film that you put you on the map. Since the first "Alice," you've only appeared in art house fare. What made you take the leap and return to the franchise?
Well, partly I'm contractually obligated so I like partly have to. And then also it has a great cast and I haven't done a big film since then. It gave me so many opportunities, so it's not a bad thing in a way. Yes, it's strange. I completely didn't think it was going to happen. It's been six years now and I think that is unusual. I thought if there was going to be a sequel it might have been a year later, or something, so it became kind of a shock that they were going to go ahead with it.
Do you feel ready to revisit it?
Yeah, it'll be interesting. It's a lot more sets this time, which will be really nice. Filming on blue screen instead of green screen are the main differences.
And no Tim.
And no Tim.
READ MORE: Why Mia Wasikowska Has Stuck to Indies Following 'Alice in Wonderland'
Sign Up: Stay on top of the latest breaking film and TV news! Sign up for our Email Newsletters here.