Bob Belcher
"I'd just be really depressed, overwhelmed by the world, slouch, yeah."
– H. Jon Benjamin, voice of Bob
It's fairly simple to dress up like Bob. Just grab a white, short-sleeve undershirt and a pair of gray sweatpants. Gentlemen, you can grow the mustache; ladies, just draw one on printer paper with a black Sharpie because that's what Bob would do if he were in your position. Unless of course, Linda were to force him to put in effort the way she does in "Fort Night," the Halloween episode from last season in which Bob and Linda struggle to finish making the kids costume — a Chinese Dragon.
Bob's voice, on the other hand, is a very different story. What Bob's physicality lacks in terms of originality is compensated for a million times over by the distinct, husky (and vaguely sexy?) voice provided by voice actor H. Jon Benjamin. Don't even bother trying to emulate it. It's too perfect. Just throw in a bunch of "Oh my gods," and you'll be fine — rather, other people will think you're overwhelmed, as you should be.
Linda Belcher

"Linda would get drunk."
– John Roberts, voice of Linda
Aside from Linda's trademark long-sleeve coral shirt, skinny jeans, and matching cat-eyed glasses frames, if you want to be Linda for Halloween, you're going to need to make sure you purchase a generous quantity of boxed wine, and if you want to keep it quasi-classy the way Linda does, you'll also probably want to grab a package of plastic wine glasses. Linda loves wine. It's something we've known since the beginning of the series, but last season, Linda's affection for wine took center stage in the episode, "The Kids Rob a Train," where she and Bob go on a wine tasting train ride together.
Besides procuring the wine, you will need to put aside your stage fright and fear of humiliation — or maybe, if you're lucky, you're an extreme extrovert like Linda — in order to spend the majority of Halloween night singing nonsensical songs about mundane topics like sex.
It might be in your best interest to begin preparations by incorporating some vocal exercises — namely Linda's trademark "All Right!" catchphrase — into your daily routine.
Louise Belcher
"It might be good to incorporate the bunny ears into a costume like she did with Edward Scissorhands. So Louise with the bunny ears in cosplay. That's the challenge. Send me the pictures and I'll tell you how you did."
– Kristen Schaal, voice of Louise
Sure, you could go the traditional route and find a green jumper to go with the the pink bunny ears hat you bought off Etsy, but then you wouldn't really be Louise, would you?
In fact, Louise would be rather disappointed if you didn't try to come up with an idea on par with Edward Scissorhands — something along the lines of Frank the Rabbit from Richard Kelly's "Donnie Darko," Roger Rabbit or Jim Benton's Happy Bunny.

Gene Belcher

"Gotta wear the burger suit and just be irrepressible."
– Loren Bouchard, "Bob's Burgers" Creator
This is what Bouchard really means when he says you should "be irrepressible:"
Sidenote: The burger suit is a real thing. Make it happen.
Tina Belcher
"Look inside yourself and find that inner Tina."
– Loren Bouchard, "Bob's Burgers" Creator
Of all the members of the Belcher family, Tina is the most "in touch" with herself; the most fearless to daydream and confront her desires.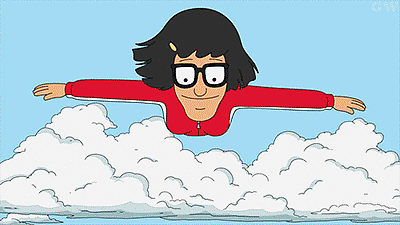 So as long as you've got the symmetrical bob haircut, the yellow barrette and the square black glasses, nothing else matters because, as Tina would say: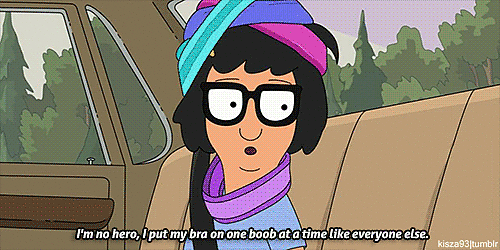 A groan or two, wouldn't hurt. Depends on how method you want to get.
"Bob's Burgers" airs on Fox at 7:30pm on Sundays. Halloween is on October 31, so get cracking on those costumes.
READ MORE: 'Bob's Burgers' Friend Fiction: 11 Episodes We Demand for Season 5


Sign Up: Stay on top of the latest breaking film and TV news! Sign up for our Email Newsletters here.