It feels like a comeback of 'The Comeback' was inevitable: Lisa Kudrow's body of work is stacked with brilliant comedic performances (Phoebe! Michele!), but Valerie Cherish may be her greatest role. Valerie is a law unto herself: at once plucky, bumbling, sincere, narcissistic, and disarmingly kind.
For those who haven't seen it, "The Comeback" is the story of a former A-list sitcom making a return to TV, framed as raw footage from the filming of her reality show. Be warned: if you shy away from "cringe comedy," this show will be your undoing. It's a perpetual motion machine of indignity. Valerie is embarrassed in increasingly awful ways, but time and again she takes a zen-like path of least resistance. In the immortal words of Chumbawamba: "I get knocked down, but I get up again."
Tonight the show returns for a second season — almost ten years after its first. To get ready, here are seven moments that made Valerie as quotable as she is gauche:
READ MORE: How 'Web Therapy' and 'The Comeback' Prove Lisa Kudrow Is the Most Interesting Former 'Friend'
7. "Get him! Get him!"
The usually passive Valerie is called into action when she finds her young stepdaughter drinking and smoking cigarettes, poolside. Her anger hits its peak when she finds the girls have invited a boy. In this clip, the rule-breaker tries to escape undetected, but Valerie chases him down. Finally when she catches up to him, she asks "What's your name?" "Kevin," he replies. "Costner??" she asks, incredulous.
6. "Note to self: after a long day at work, I don't need to see that!"
Valerie's
signature catchphrase in both "The Comeback" and her fictional sitcom
"Room and Bored." She rehearses the line
in her kitchen, obsessively, into infinitude, and when she delivers it to
the studio audience as her character "Aunt Sassy," she receives thunderous applause.
5. Valerie's dance.
Though she is very jealous of her "Room and Bored" co-star, A-list starlet Juna (Malin Akerman), Valerie keeps her emotions bubbling under the surface, and the two become good friends. When she goes to see Juna's band, Valerie gets a shout out on stage and the result is unforgettable. As Valerie work, work, WORKS her fringed leather jacket, she draws shaking heads from the concertgoers behind her. To viewers at home, her wholehearted smile is hard to deny.
4. "Well, I got it!"

Probably "The Comeback's" best joke about reality TV machination. When Valerie first gets cast in "Room and Bored," cameras are not allowed to film the moment, so she is asked by the crew (Laura Silverman) to recreate her initial reaction. She is hesitant, but eventually gives them the manic take they were after. She immediately regrets it: "You can't use that. That was a crazy person and you cannot use it."
3. "I do not endorse it."
The cast of "Room and Bored" decides not to come into work as a statement to the crew. Valerie, a team player, goes along with this, but the guilt devours her from inside out. "Even though I am planning on doing this, I do not endorse it! I DO NOT ENDORSE IT!" Apparently, Valerie views her on-camera confession as a kind of legal defense — she sounds relieved when saying: "Now I have it on record."
2. The cupcake punch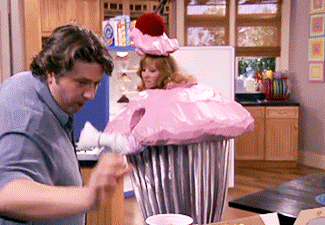 Tensions build between Valerie and Paulie G, a co-creator of "Room and Bored" who really has it out for Valerie, for the entire first season of "The Comeback." While he is repeatedly, openly mean to her, often embarrassing her, Valerie keeps turning the other cheek… until she just can't take it any more. Her rage is a slow burn, and when it's finally released… well, the result is explosive.


1. "I Will Survive"
https://www.youtube.com/watch?v=gdivhHwfzF8
"More street! Kick some ass." There are no words to describe it. Just sit back, and watch a master at work
READ MORE: Review: 'The Comeback' Season 2 Takes HBO Comedy to a Dark & Challenging New Level
Sign Up: Stay on top of the latest breaking film and TV news! Sign up for our Email Newsletters here.