Worst: Neil Patrick Harris and the Oscar writing team
Negative reviews for Neil Patrick Harris' first (and likely last) gig hosting the Oscars were alerted out before most people had even turned off their television and they were justified. After a generally enjoyable song-and-dance opener (which really was at its best because of Jack Black and not Harris himself), Harris fell seriously flat trying to be more of a comedian than he's apparently capable of. Though in his defense, most of the bad jokes (from "here's a Peta that won't throw paint on you" when Josh Hutcherson took the stage to the ridiculous "with her spoon" introduction of Reese Witherspoon) were really the fault of the telecast's writing team more than Harris.
Best: Tina and Amy's swan song
The Golden Globes trumped the Oscars in more than one regard this season, but the show's prized possession remained hosts Tina Fey and Amy Poehler. While we wanted less of Harris at the Oscars, we could have easily handled a whole lot more Tina and Amy, especially since this was sadly their last time hosting. A personal favorite zinger, care of Fey: "George Clooney married Amal Alamuddin this year. Amal is a human rights lawyer, who worked on the Enron case, was an advisor to Kofi Annan regarding Syria, and was selected for a three person UN commission investigating rules of war violations in the Gaza Strip. So tonight her husband is getting a lifetime achievement award."
Worst: The Spirits mimicking the Oscars (again)
My colleague Eric Kohn said it best in this article: The Spirit Awards need to stop with the Oscar crossover. This year, the ceremonies shared six major winners, including "Birdman" taking in top prize at both. It makes for a very unexciting 36 hours given the shows go down back-to-back and it doesn't give a chance to smaller films that aren't mainstream enough for Oscar's tastes. It's definitely saying something when the most "indie" winners of any major awards show this season were at the Golden Globes, where "Boyhood" dominated.
Best: "Dick Poop"
It's horribly immature I realize, but I'll definitely never forget Cheryl Boone Isaacs misreading of "Mr. Turner" cinematographer Dick Pope when she was announcing the nominations. But hey — it did make the cinematography of a Mike Leigh film internet famous for a couple days and there's nothing wrong with that.
https://www.youtube.com/watch?v=HyL9TeIsGsI
Best: Julianne Moore, J.K. Simmons and Patricia Arquette all get their deserved moments in the awards season spotlight
Julianne Moore, J.K. Simmons and Patricia Arquette won pretty much every single award out there this season for their work in "Still Alice," "Whiplash" and "Boyhood," respectively. And that's pretty amazing when you think about it. Three awesome veteran actors who have absolutely paid their dues deservedly won Oscars (and Golden Globes… and BAFTAs… and Spirit Awards… and SAG Awards) — each for movies that cost under $5 million to make.
Worst: The complete lack of suspense as a result
I was rooting for Moore, Simmons and Arquette from the get-go, but it would have been a little more fun if they had been in actual races. No one in their right mind predicted anything other than their ultimate wins, which might have felt a little more powerful if they hadn't all seemed so set in stone since way back in September.
Best: Tilda Swinton and Amy Schumer at the Gotham Awards
The Gotham Award telecast tends to be one of the snoozier shows of awards season, but it had a secret weapon this year thanks to Amy Schumer's mind-blowing tribute to Tilda Swinton. "You shake her hand, and you meet her, and 10 minutes later she's inviting you to stay with her and the twins and their pet, like, horses or whatever, in their mysterious beach water castle in Scotland," Schumer said. "With Tilda you are instant family — the family you wish you had.
Watch and re-watch below:
Worst: "The LEGO Movie" snub at the Oscars
It still doesn't make any sense to me, and it probably never will. A hugely successful animated film adored by critics and audiences alike that most figured would win the Oscar doesn't even get nominated.
Best: "The LEGO Movie" performance at the Oscars
"LEGO" did end up with a song nomination and while it lost that too — at least the film had the distinction of being one of the very few genuinely inspired planned moments of the telecast when Tegan & Sara and The Lonely Island took the stage to perform "Everything is Awesome."
Worst: That "Imitation Game" campaign
"Honor the Man. Honor the Film." That's what giant billboards all over Los Angeles read in the weeks leading up to the Oscars, with The Weinstein Company somehow mistaking the Oscars for a Nobel Peace Prize. Whenever I saw one, I could hear Harvey Weinstein screaming the slogan in my head. It was an odd attempt at bullying people into voting for a film because they should feel guilty about what happened to its real-life protagonist. In the end, it didn't pay off anyway as the film didn't really win any major prizes at any major awards show save a Best Adapted Screenplay Oscar.
Best: The double Golden Globe win for "Transparent"
One more high five to the Hollywood Foreign Press Association: They gave two Golden Globes to the truly wonderful Amazon series "Transparent," which is on far more folks' radars as a result (if it's not on yours — go watch it now!).
Worst: The SAG Award nominations for television
While the Golden Globes increasingly think outside the box with their television nominations, the SAG Awards are an annual mind-boggler. Four nominations for "Modern Family," again? No Tatiana Maslany or Kerry Washington or Lisa Kudrow or Jeffrey Tambor or Clive Owen or Ruth Wilson? The SAGs (much like the Emmys, for that matter) always seem a few years behind.
Best: Frances McDormand's SAG Award speech
One thing the SAGs did do right was give Frances McDormand an award for HBO miniseries "Olive Kitteridge." And boy, was her speech everything:
Worst: This
Best: The International Cinephile Society's annual nominations
Imagine a world where Alain Guiraudie's "Stranger By The Lake" and Xavier Dolan's "Mommy" led the Oscar nominations? Welcome to the International Cinephile Society Awards, which definitely wins our award for the best nominations of the season. Seriously, look at the list below. Two nominations for both of our red headed goddesses, Julianne Moore and Tilda Swinton? No remote sign of "American Sniper," "The Imitation Game" or "The Theory of Everything"? Look no further.
Worst: The increasingly lack of originality among most critics' awards groups
While the International Cinephile Society certainly thought outside of the box, most of the seemingly 100+ different critics groups looked very similar to one another. A year after "12 Years a Slave" more-or-less did the same, "Boyhood" won nearly every single Best Picture prize (I love the film and all, but that's a bit much), save a few little surprises here and there (the Boston Online critics went with "Snowpiercer" in one the more inspired examples, while the National Society of Film Critics went for "Goodbye to Language"). Each year it often feels like critics groups are just copying off one another's papers — a shame given how many great films are out there for them to chose from.
Best: What ended up happening to "The Grand Budapest Hotel" and "Whiplash"
By this time last year, most of the industry had already seen "The Grand Budapest Hotel" and "Whiplash" thanks to their premieres in Berlin and Sundance, respectively. But few would have had the foresight to predict they'd both end up Best Picture nominees and collectively take home seven trophies. And it's hard to find too many folks unhappy about that. Really, these are the two most unexpected success stories of the season. They also make you wonder if we've already seen a few of next year's big winners.
Worst: What ended up happening to "Selma"
At one point it seemed almost certain that Ava DuVernay would make history this awards season. There have been 423 Oscar nominations handed out for Best Director over the years. Of them, four have gone to females (all of them white) and three have gone to black filmmakers (all of them male). Ava DuVernay would have been the very first woman of color to get an Oscar nomination. And while she did make that history at the Golden Globes, the Oscars did not follow suit even. The snub caused considerable controversy and rightfully so. Pretty much any reasonable minded person felt that DuVernay's
nomination would have been very deserved (certainly more so that Morten
Tyldum's).
Best: Almost all the speeches at the Oscars
One thing the Oscars actually did do right this year (even though they didn't have much to do with it), were the speeches. Emotional, thoughtful, passionate and/or hilarious speeches came from nearly each and every winner, not least of all Common and John Legend for "Selma," Graham Moore for "The Imitation Game," or all four acting winners (especially J.K. Simmons and Patricia Arquette). The Oscars haven't officially put them online yet, but we'll add 'em in as soon as they do. Because they are all definitely worth a second (or third) look.
Best: This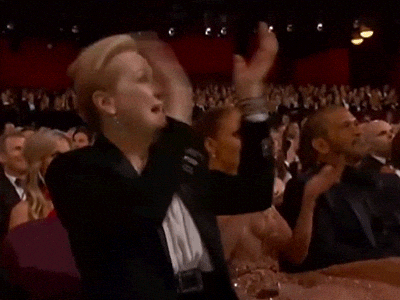 Sign Up: Stay on top of the latest breaking film and TV news! Sign up for our Email Newsletters here.