READ MORE: Review: The Final 'Mad Men' Season Premiere Asks if Don, or Anyone, Can Ever Be Happy
As part of New York City's ongoing tribute to "Mad Men," a full house squeezed into Alice Tully Hall at Lincoln Center for a look back at some of the cast's favorite moments from the series. On hand to select and discuss the clips were stars Jon Hamm, January Jones, Christina Hendricks and John Slattery, as well as creator Matthew Weiner.
Each "Mad Men" team member seemed very affected by the nostalgia, reflecting on several iconic moments from the very first season as well as some of the series' more controversial storytelling choices. Below are the seven most notable scenes chosen, with excerpts of what Weiner and his cast had to say about them.
"Smoke Gets in Your Eyes" (Season 1, Episode 1)
What happens in the clip: Peggy arrives at Sterling Cooper for the first time, and Joan gives her a tour of the office. Peggy gets quite the lay of the land in under a minute, learning that Mr. Draper dropped his last secretary because "he wasn't interested" and is told that he'd probably "appreciate" it if she showed off her legs a little more.

What the cast had to say about it: Hendricks said that "It's just so amazing to look back at the incredible relationship that Peggy and Joan end up having, and Joan is so rude! It just makes me laugh watching it. This is the scene I auditioned with to get the show, so it's crazy for me to watch it because you get a script, and I had two scenes. Both of them were audition scenes. You have to decide who this person is, who this character is, so you're looking for every single clue that you can get in these amount of words that are on this page to develop this person… It was like, you gotta smoke, you gotta turn, you gotta walk and do the thing, it was just this whole bit of choreography."
Weiner added, "When Christina came in, it was not at all what I imagined. She's bossy, but she is so well-meaning, when she is bringing this young girl from the countryside to the world of the courtesan. That's why that exotic music is in there. I said, 'I am sure of one thing, [the audience] wants to see more of those two people talking to each other. We did not give them enough.'"
"Babylon" (Season 1, Episode 6)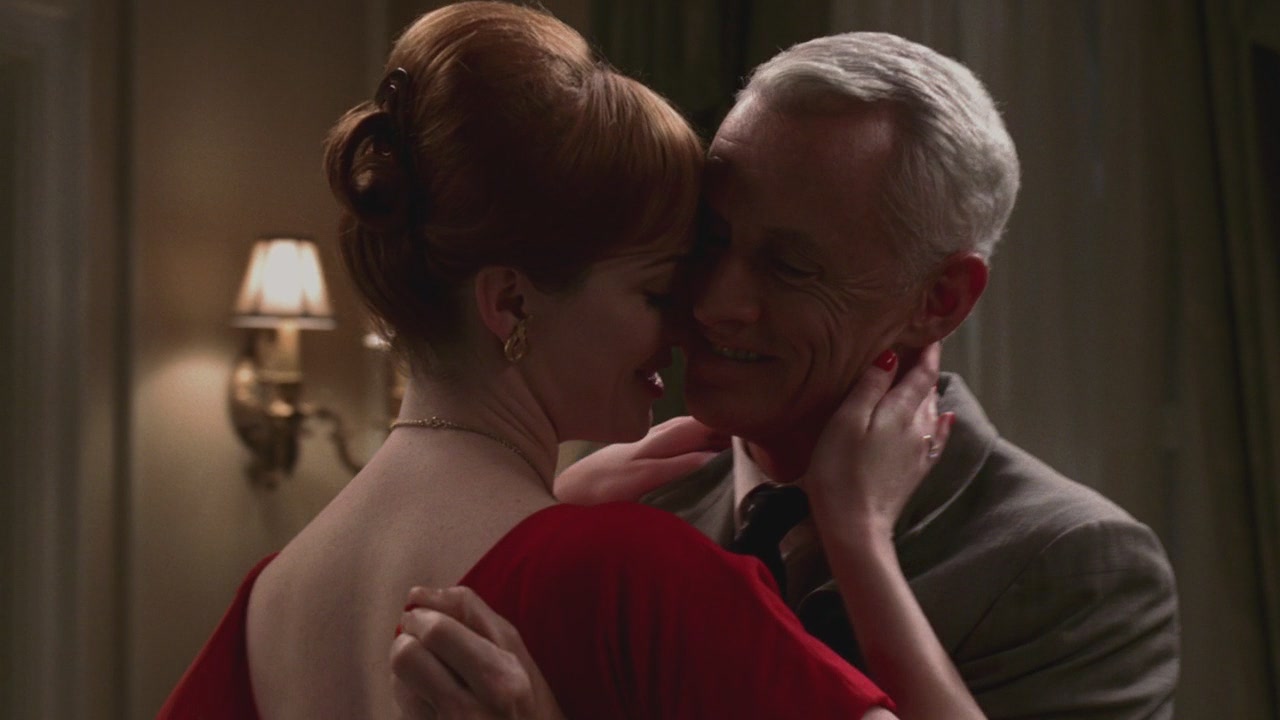 What happens in the clip: In our first introduction to Joan and Roger beyond the office, the two are intimately engaged in a hotel room. It's midday, and Roger unveils himself for the audience as quite the romantic, infatuated with Joan and willing to dig deeper into their affair. But Joan stands her ground.
What the cast had to say about it: As Hendricks put it, "It was the first time I discovered all these things about Joan. They're never telling each other the truth. It was the start of this long, interesting, and delicious relationship." Weiner called it "one of the hottest things I've seen in any medium," and admitted that the length of the scene came out of a desire to save money, more than anything else. He also said that the clip nicely establishes the relationship's foundation: "Joan is in control of everything, but she is not in control of that relationship. [Roger] never came through at the right time."
"The Wheel" (Season 1, Episode 13)
What happens in the clip: Betty spots Glen (Marten Holden Weiner, Matthew Weiner's son), the young son of divorcee Helen Bishop, in a parking lot. She's been forbidden from seeing him after she got uncomfortably close, but motions him to roll down the window anyway. In a rare moment of Betty unleashing her concealed emotions, she tells Glen that she's very, very sad.
What the cast had to say about it: Weiner reminisced, saying "I remember directing that, it was 105 degrees. I was very concerned about January being overwhelmed by the heat. All of a sudden I was like, 'Holy shit, my kid's in that car! Are you okay, Marten?' He was like, 'Yeah, can I take off the snow pants?' His cheeks are so red and that's not makeup, it was just 100 degrees … It was not my idea [to put my son in 'Mad Men']. He had such an innocent, detached, non-trained actor quality. I couldn't tell if he was good or not. No one took into account the abuse that could be out there for him as a professional."
After an audience member commented on child actors being exposed to Betty's troubling behavior, Jones joked "Who cares about the kids? They're not going to remember it anyways!"
"My Old Kentucky Home" (Season 3, Episode 3)
What happens in the clip: This infamous, controversial "Mad Men" scene took place at the wedding of Roger and Jane (Peyton List). In it, Roger dons blackface and sings in classic, caricature fashion to his new wife, much to the irritation of Don and Pete, who abruptly leave.
What the cast had to say about it: The event didn't actually screen this clip, but it was discussed tangentially at length. Slattery said, "I never figured Roger would be the guy to go through all he's gone through. I couldn't have guessed LSD or blackface. I called Hamm and said, 'Would you do this?' Every year we have a 'kick off the season' party, where Matt has been writing for a couple of months and he's very excited about whatever he's been working on that day… I'm about to leave and he tells me, 'Wait, I have to tell you something, you're going to sing 'My Old Kentucky Home' in blackface at a country club on Derby Day.' I'm thinking, 'What the fuck? What have I gotten into?' We did tests and pictures, and I was sitting in the mirror like, 'Is this the way it's supposed to look?' You're standing there, waiting around, and driving [to the location] in blackface."
Weiner explained the discomfort that surrounding writing, and then shooting, the scene: "There was a lot of controversy in the writers' room. A lot of the writers were like, 'you can't do this.' I was like, 'Well, I think that season takes place in 1963 and blackface was not removed from the Philadelphia Police Parade until 1968 or something.' That episode is about white people and what they're like when they're alone. We have a very diverse crew, and everyone understood what was happening, that it was a period piece, and it was not pleasurable for anyone. It was so well established that this was a part of the framework of that time, and it was so clear that we were criticizing it, but we had to live through doing it to criticize it."
"The Gypsy and the Hobo" (Season 3, Episode 11)
What happens in the clip: Considered three seasons in the making, Betty finally confronts Don about his deeply-buried secrets — all while his mistress, Suzanne Farrell (Abigail Spencer), is waiting outside for him. It's a tense, revelatory scene that marks the end of the Draper marriage and the first of many wake-up calls for Don.
What the cast had to say about it: As Hamm put it, "What do you do when that bomb has exploded? People act differently when they're around different people from different parts of their life. You might act differently when you're with your high school friends or back in your hometown or whatever. This is a version of that. This person is confronted by someone that knows him as the real person who he is; of course he's going to be that different person. My conscious construct of Don Draper in the office was that this was a man who put on a suit of armor every day … [But] when that matter and that antimatter come together, he's being Dick Whitman in Don Draper's clothes. He can barely speak, he can't put words together. A guy who speaks for a living cannot put two sentences together because he's completely at a loss."
Weiner, meanwhile, explained how the scene exemplifies the series' core concern with class: "The thing that always strikes me about this scene is the show was always inspired by the fact that you can change your name. Who knows what you feel like when you change your name when you're an actor or performer? You create a persona and it's you, you don't care anymore. Woody Allen, do people who know him call him Allen? Do they call him Woody? It's such a part of our malleability. What I really felt when I watch this scene, and Jon and January both understood this, is that this is a class issue. What you get there right away when she says that thing about, 'you don't understand money,' and you feel it. Why did he want to be Don Draper? Because he got to put on that suit of armor. Why did she marry a man that she knew nothing about? Because he was that guy. Here, you strip it all away and you're from rural poverty. You're beneath me. You will never marry me and get into my class. Her aspirations are that, she feels incredibly duped. It's like 'Wuthering Heights' to me. We don't have a lot of this in America, or we deny it. January knew right away that Betty was a snob, and that she was aspirational and a daddy's girl, a little bit of a brat, and had been valued for her beauty. She brings that to it."
"The Suitcase" (Season 4, Episode 7)
What happens in the clip: In one of the many classic scenes from the "Mad Men" bottle episode, Don and Peggy share a drink after a long night in the office, with the famous Ali v. Liston boxing match playing loudly on the radio, in the background. Peggy admits to Don that people think her rise with the company is because she slept with him, which Don quickly shoots down — she's earned it.
What the cast had to say about it: Weiner could only gush about the episode, and this scene in particular: "I'm not on set all the time. This is a show that's shown to me. I knew about the script, I had seen the location, but I had no idea what they had pulled off. There's a thing in television called a bottle show. A bottle show is a thing that takes place where you limit the elements of the show to one location, with as few people as possible … What I love about this scene was we made a list in the writers' room before this of everything that had not been talked about, because so much of the show depends on people not talking to each other … One of the things was, 'Doesn't Peggy wonder why Don's never hit on her? It's so insulting! Especially in Season 4, where he's the least picky he's ever been.' The previous episode to this, he's been with two women in one night and has no recollection of even encountering the second woman. 'You never looked at me that way?' was one of the questions. I love that the audience had to know that they were talking about the baby."
Hamm jumped off that, adding "I really liked the whole episode because we learn a lot about the relationship that these two characters developed over the course of four seasons. There's so much in that scene that is not directly said. They know what they're talking about, but they're not saying, 'Anyway, about that kid you had back in Season 1'… For me, it just showed this incredible mutual respect, that we hadn't really seen, in so many ways. I loved how the sound design kept that boxing match loud because it was on in the bar, people wanted to hear it. It was this very intimate conversation that was happening about very personal things, fighting with a boxing match. It was a very genuine, sweet interaction between two people. And funny. It's a conversation that these two people probably had meant to have for three years and just didn't until this moment. They care about each other enough to have it in a way where they're not pulling it out of each other. They're letting each other come to the table and discuss."
"The Other Woman" (Season 5, Episode 11)
What happens in the clip: Joan makes a decision that caused intense debate within the 'Mad Men' fan community: she decides to prostitute herself for a major prospective client (Jaguar), in exchange for a partnership with the firm. Don expresses horror and, in a clever bit of time-switching, we learn his opportunity to express his dismay to Joan comes a moment too late.
What the cast had to say about it: The audience wasn't too receptive to this one, and discussion on the clip was fairly limited. But Weiner did explain that the plotline came out of true-life stories about women who would prostitute themselves out for the sake of the firm. To a decidedly mixed reaction from the crowd, he quipped that "the only thing untrue about that story was that I don't think anyone ever got a partnership out of it."
READ MORE: 6 Career Paths Jon Hamm Should Consider After 'Mad Men'
Sign Up: Stay on top of the latest breaking film and TV news! Sign up for our Email Newsletters here.