READ MORE: The 2015 Indiewire SXSW Bible
Krisha Fairchild, "Krisha" (Actor)
Actress Krisha Fairchild returned to SXSW after attending the festival last year in support of a project by the same name, only this time she emerged as one of the biggest breakthroughs of the event. Fairchild impressed in last year's short, written and directed by her nephew Trey Edward Shults, which went on to win a cinematography award. But in its feature-length form, Fairchild got to show her full range embodying the titular troubled mother and astonished all who saw her in Shults' feature debut. In "Krisha" (the story is not based on her own life, despite its title), Fairchild plays a drug and alcohol abuser who reunites with her family for a holiday gathering after years of absence. She relapses when the stress of the situation brings back her demons. Unlike most of her co-stars in "Krisha," Fairchild's been a working actress since the '90s. She's never, however, been afforded a role as juicy as the one her nephew wrote for her. Hopefully more writers will now see "Krisha" and write vehicles for her as a result of her tremendous performance. The movies need her.
Jay Dockendorf, "Naz and Maalik" (Writer/director)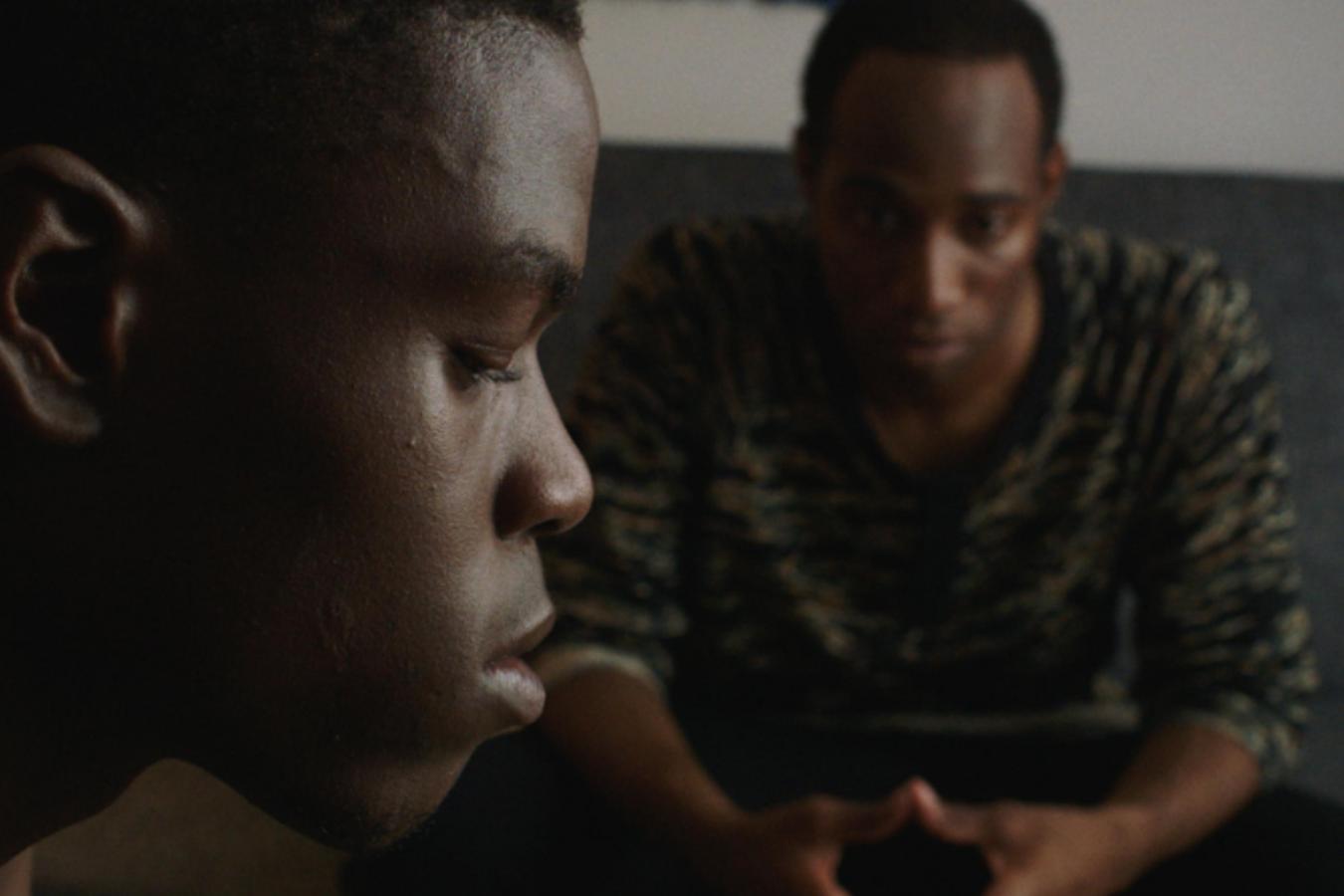 For his directorial debut, writer-director Jay Dockendorf tackled explosive material that drew attention when it premiered in the Visions section at SXSW. Set during a single hectic day in Brooklyn, "Naz and Maalik" centers on two closeted Muslim teens (newcomer Kerwin Johnson, Jr. and Curtis Cook, Jr.) being surveilled by the FBI due to their religion, while engaging in two-bit schemes around town. Dockendorf, who won Tribeca Film Institute's IWC Filmmaker Award for the project, was inspired to make his debut feature after hearing about (and being appalled by) the FBI's program of secret spying on mosques in Brooklyn. His story emerged from interviewing Muslims about their real-life experiences with surveillance, including some closeted gay men. A former Project of the Week winner on Indiewire, "Naz and Maalik" strikes a timely note and heralds the arrival of a filmmaker willing to push buttons to get important stories out to the public.
Benjamin Dickinson, "Creative Control" (Writer/director/actor)
Writer-director Benjamin Dickinson returned to the festival circuit following his deft and minimalist 2012 debut "First Winter," with another near-future tale about a group of Brooklynites that he again stars in. That's where the similarities end. As Indiewire's Eric Kohn stated in his Grade A review for the filmmaker's sophomore feature, "Compared to the meandering pace and minimalist setting of Dickinson's debut, 'Creative Control' amounts to a major step forward." In "Creative Control," Dickinson stars as a serious-minded inventor who creates an ambitious pair of "Augmented Reality" glasses, which he ultimately uses to create an avatar of his best friend's girlfriend. Naturally, his technologically-enhanced fantasy turns against him. The film was a hit with critics and audiences at SXSW, where it won a Special Jury award for Visual Excellence.
READ MORE:SXSW: Benjamin Dickinson On His Sci-Fi Stunner 'Creative Control' and Why Movies Need to Ditch the Heroes
Eugene Kotlyarenko," A Wonderful Cloud" (Writer/director/actor)
Eugene Kotlyarenko isn't one to let vanity get in the way of a good visual gag. In his SXSW Visions entry "A Wonderful Cloud," his hilarious follow-up to his little-seen debut "0s and 1s," the writer-director-actor first appears on screen with his sweaty face in between a woman's thighs. Later, during an extended sequence, he sits on the toilet taking a dump while trying to plan the night with his disgusted ex-girlfriend (played by Kotlyarenko's own ex-girlfriend Kate Lyn Sheil). It's that unapologetic approach to letting it all hang out that lends his sophomore feature its zany energy and ultimately its heart. The story of "A Wonderful Cloud" centers on Kate (Sheil) who travels to Los Angeles in hopes of wrestling control of a clothing company from her ex, Eugene (Kotlyarenko). Unable to deny their emotional past, the mismatched pair spend the weekend trying to determine once and for all whether or not they have a future. For Kotlyarenko, this doesn't mark the first time he's used his own life to mine material for his work: His web series "SkyDiver" tracks the ups and down of his dating life and includes an awkward appearance from Sheil, after she dumped him.
Oona Laurence, "Lamb" & "The Grief of Others" (Actor)
Child actor Oona Laurence has already accomplished more than most twice her age. Still, we wager you're not familiar with her name yet. That's soon about to change. The actress is best known in theater circles for originating the role of Matilda in the Broadway hit musical of the same name. Her performance won her an honorary Tony award. Since netting the honor, Laurence shifted to film and hasn't looked back. She appeared briefly opposite Sarah Silverman in the recent Sundance drama "I Smile Back" and was at SXSW this year with two projects, Ross Partridge's well-received drama "Lamb" and Patrick Wang's follow-up to his acclaimed "In the Family," "The Grief of Others." She equally impressed in both, which bodes well for her upcoming project: the Disney remake of "Pete's Dragon," directed by David Lowery ("Ain't Them Bodies Saints").
Jared Breeze, "The Boy" (Actor)

As nine-year-old emerging psychopath Ted Henley, Jared Breeze inhabits a familiar mold — the creepy kid found in scary movies ranging from "The Omen" to "Joshua" — but there's nothing familiar about his ability to give the character a distinctly haunting aura. Director Craig Macneill's debut follows Ted's alienated childhood at a desert motel where his father has cut off most ties with the world, a decision that ultimately leads Ted to act out in terrifying ways. The young actor's focused intensity never feels gimmicky. Instead, with his petite form and piercing eyes, he gives us one of the most unassuming movie monsters in ages. With that kind of ability, it's clear that Breeze has a lot of potential to hold sway over audiences for years to come.
Ben Rosenfield and Taissa Farmiga, "6 Years" (Actors)

Director Hannah Fidell's improvised follow-up to her debut feature "A Teacher" almost exclusively relies on the investment of its two leads. While they aren't entirely fresh faces — Rosenfield has several episodes of "Boardwalk Empire" under his belt, while Farmiga appeared in the first season of "American Horror Story"—"6 Years" provides a fresh showcase for both actors. As a young couple coping with various relationship problems on the cusp of the eponymous anniversary, Rosenfield and Farmiga are equally adroit at conveying a deep, intimate connection with their characters and suggesting the process through which it has started to come apart at the seams. Both actors should now qualify for any projects involving extreme heartbreak currently looking for credible leads.
Joe Frank and Zachary Reed, "Sweaty Betty" (Directors)

It's safe to say that nobody in the film world knew about filmmakers Joseph Frank and Zachary Reed before this year's SXSW Film Festival. The co-directors' debut feature, "Sweaty Betty," was made on the cheap and shot on location in Hyattsville, Maryland with a cast of locals playing embellished versions of themselves. The dueling plots, surrounding one man's attempt to brand his pig as a Washington Redskins mascot and two teen parents who come into possession of a neighborhood dog, have a meandering quality on par with the subjects' real lives. But that's part of the unique charm in this hybrid narrative, for which the first-timers drew inspiration from "Curb Your Enthusiasm" and "Gummo" alike. Complimented by a few revealing monologues and musical montages, "Sweaty Betty" is consistently engaging and unpredictable. Despite its playful, lighthearted tone, the movie features a unique formalism and storytelling ambition that taps into the wonders of everyday existence with poetic finesse. Its grab bag of surprises bodes well for whatever the directors do next.
Morgan Krantz, "Babysitter" (Writer/director)

The festival circuit plays host to countless coming-of-age dramas each year. Morgan Krantz's directorial debut fits squarely into that category. But the delicate drama, in which "Parenthood" star Max Burkholder plays a privileged teen coping with divorce, excels at hitting its familiar beats. Burkholder plays Ray, the son of a troubled actress (Valerie Azlynn), who winds up forming a curious romantic bond with the babysitter (Daniele Watts) tasked with looking after his younger sister. With a gentle, unassuming style that taps into its troubled protagonist's point of view, Krantz delivers a fragile narrative that earns comparisons to "Freaks and Geeks" for its careful navigation of drama and comedy. As Ray begins to question his surroundings, at first attempting an ill-advised gig selling pot before embarking on an even more ambitious act of rebellion, "Babysitter" maintains a sense of innocence about the dark elements in play — much like its lead character. Such careful attention to point of view is proof of Krantz's promise behind the camera.
Jessica Edwards, "Mavis!" (Director)

Jessica Edwards has steadily established herself in the documentary world over the years, first as a film publicist and then as the author of an advice book for filmmakers. More recently, she directed several well-received short films, including "Seltzer Works." But her filmmaking career kicked into a new stage at SXSW this year with the crowdpleaser "Mavis!", a portrait of legendary gospel singer Mavis Staples and The Staples Singers. Edwards' vibrant chronicle of the singer's life includes details from her efforts in the civil rights movement as well as her group's musical innovations. Cameos range from Bob Dylan to Prince and the late Levon Helm. Best of all, the film's subject is still alive and active at 75. For Edwards, the success of this ode to its subject proves she's got the chops to handle a major historical topic with its entertainment value intact.
READ MORE: SXSW: Complete List of 2015 Film Awards Winners
Sign Up: Stay on top of the latest breaking film and TV news! Sign up for our Email Newsletters here.