The intellectualism running through several of today's better TV comedies — the culturally astute "Black-ish," the subversively personal "Louie," the brazenly crude "Broad City," the antiromantic romance "You're the Worst" — is often qualified by sporadic bursts of the lowbrow.
As a term, "lowbrow" is a little suspect. It implies a level of immaturity, a juvenile approach to humor. But like anything, it reflects a form and a method. It presents a way of conveying ideas, even if its usage is often accompanied by a rather opaque (or, more bluntly, witless) intent.
"Louie," showing its age only in confidence and expertise in its currently-airing fifth season, pulled off a phenomenal (and elongated) bathroom joke, visualized a disturbingly private and gender-bending sexual encounter, and managed a wrenchingly parabolic two-hander about loneliness, likability and the fluency of comedy — all within a three-episode stretch.
"Louie" isn't the only half-hour series riding high at the moment, nor is it alone in blending crude jokes with dire wit. Armando Iannucci's vicious political satire "Veep," Mike Judge's bouncy tech comedy "Silicon Valley," and Amy Schumer's defiant sketch series "Inside Amy Schumer" are all at the top of their game.
READ MORE: 'Inside Amy Schumer': Go Behind the Scenes of That Incredible '12 Angry Men' Homage
They are comfortably among the best that TV comedy has to offer, and they wander in that dirty-joke area that's come to be a signature for others like "Louie" and "Broad City." More importantly, they're also incredibly timely. Surpassing the static bleakness of "House of Cards" and "Scandal," "Veep" embodies the cynicism surrounding D.C. with a salty tongue and a bumbling ineffectuality. "Silicon Valley" puts a face on the new American empire builders — and that face looks like this. "Inside Amy Schumer" injects itself into contemporary arguments over political correctness and gender equality by raising a proudly-feminist middle finger to the whole shebang. (That is to say, rape jokes are definitely on the table.)
Breaking Down Political Reverance
Comedy cuts through power and authority, but the targets of these comedies are more nuanced and less rigid. Take "Veep," an actively nonpartisan political satire. It paints Washington as all but destroyed by special interest politics. The opening arc of the show finds Selina trying to leave her mark as Vice President by pushing through a "clean jobs" bill. She winds up pissing off the plastic industry, then big oil, and finally a key Senator whose support of the legislation would irrevocably compromise his political legitimacy. The bill promptly dies.
Flash-forward to Season 4, with Selina, now President, preparing to give her State of the Union address. The season premiere, "Joint Session," opens with her on the podium facing a blank teleprompter: It reads only "/:." In jumping back in time immediately after this tease, Iannucci and the "Veep" creatives play their typical game with the audience. Selina and her team are jumping for joy when we flash back: Mike (Matt Walsh), her frequently incompetent press secretary, has drafted an unusually strong speech, and Selina is preparing to deliver her warmly progressive "Families First" initiative. But wait, she needs to make cuts! But wait, Congress' military hawks won't allow her to make cuts where she needs to!
As is "Veep's" way, the dilemma cascades courtesy of Selina's bumbling staff: Her speech ends up calling for an additional $10 million to a pointless military submarine program, while cutting the Families First spending plan altogether. Let this line from Selina sum up the scenario — and perhaps "Veep," in intent, in comedy, and in style, as a whole: "Whole cities of children were going to be saved from poverty. Instead, now that money is going to fund obsolete metal giant dildos."
Playful dildo puns, "fucks" coming in a mile-a-minute, character nicknames whittled down to "Jolly Green Jizz Face" — this is not the careful deconstruction of our political system one would expect. And yet, it's the definitive expression of our moment. It identifies idealism, and mocks it mercilessly before inhaling it, chewing it up and spitting it out. Through a razor-sharp comedic lens, it exposes the gross interconnectivity one could trace back to C. Wright Mills' "Power Elite." Its methodology in doing so is deeply brilliant. On the surface, this is a craftily satirical take on our ever-worsening political dysfunction. But as TV comedy, the necessary balance to strike is exceptionally precise, and "Veep" manages it again and again. Its characters are smart and capable enough to believably exist in this world we know all too well; they're powerless enough to maintain their jobs and yet incompetent enough to keep the humor coming in thick.
Selina, as a protagonist, is especially well-drawn. She's exasperated and irritable and all-too-good for the indignities of American politics. She's also irrefutably, unapologetically self-interested. To watch such a pragmatic and unsympathetic political actor face disappointment after disappointment is quietly cathartic. Without idealism or conviction behind her "Families First"-like stances, we're free to laugh at Selina's flops — there's a gleeful absurdity to her mounting gaffes. But even so, they're authentically realized. There's a sense of the viscerally dispiriting, with perhaps even a smidge of sympathy for a leader who can't even get the most agreeable legislation through.
Changing the Capitalist Success Story
"Silicon Valley" is younger and less-polished than its HBO half-hour sibling, but it almost benefits from a rougher cut. The HBO dial turns from the savagely political to the cutthroat entrepreneurial, exploring with a radiating amusement the new forms of competition, monopoly and capitalist success in American society.
Rightly, then, there's a Google stand-in, Huli, threatening to derail the progress of our dick-joke-spewing, affirmatively nerdy and undeniably unsuspecting heroes. In Silicon Valley, the product is digital, with different rules and a market that's unprecedented in its reach. But the game is the same. We're watching the Pied Piper empire build from the ground up, under the roof of the magnificent creation that is T.J. Miller's Erlich Bachman. These are the American success stories of 2015: Young but not too energetic, ambitious but not in the world-leading sense, and way smarter than a quintessential American business superstar.
It's an area ripe for comedy, and watching Thomas Middleditch's gloriously meek and unassuming Richard Hendricks glide his compressor software team into the bigtime delivers on that potential. Lawyers, marketing, investors, taxes, new hirees, specialization — it's all in the hands of a group of guys who themselves will freely comment on their dislike for the great outdoors. The power paradigm has shifted into an absurd, almost backwards new arena. It's been teased peripherally in mainstream films like "21 Jump Street" or even in HBO's "Looking," which depicted a group of gaming programmers in a far less condescending or specialized light than we're used to. In "Silicon," the wars are real, the stakes huge, the flow of money immeasurably dense.
Gavin Belsom, Huli's CEO, absolutely fits into the White American Billionaire Celebrity type: He's unaware of his privilege, unchecked in his power. He'll make blatantly, immensely offensive comments publicly, and he's able to undo whatever damage he creates thereafter. But he's also, well, a nerd. He is weird. (He's also played by Matt Ross, A.K.A. Alby of "Big Love," the strangest character on a show full of 'em.) He sees himself in Richard and all his displaced confidence. In sum, we may know these power dynamics — they're pervasive — but the types we're seeing in this typical story of success, of building, and of capitalism are hilariously inverted.
There's a power in that idea. Judge, who's spoken at length about his "nerd cred" and how he himself fits among that group, seems almost tickled by the opportunity to expose the shift in influence — in who gets to be the kings, the decision-makers. They're the guys in "Silicon Valley." Through the industry still runs a troubling sexism, an undying elitism, a class of less-than-savory individuals who yield influence without concern for ethics.
Judge had a little trouble with some of these ideas in his first season, underwriting Amanda Crew's character — the only woman on the show — and sometimes drifting away from the show's mammoth potential. But the rise of the Pied Piper crew is clearer in Season 2, as are the characters. This show is mostly a bunch of pale, out-of-shape programmers trading barbs and complaints. And yet there's not only an intent there, but a breathless sense of triumph. As the world continues to build around the "Silicon Valley" gang, the conveyance of the shift in who gets to be granted this narrative is more and more pointed. It's not only exciting — in the hands of Judge, it's ridiculous, strange and brilliantly basic.
Not Just a Boys' Club Anymore
The power confronted by "Inside Amy Schumer" is far more insidious than what either "Veep" or "Silicon Valley" come up against. It is, to be firm, patriarchy; the show works as a way to take comedy back through a feminine lens, but in a fashion equally stupid, equally boorish, equally ballsy.
She can do a "Friday Night Lights" parody as good as one could imagine just on the basis of her Connie Britton impression. She then takes it about 10 steps further by framing the entire sketch around an impressively overt condemnation of rape/football culture. She'll take on a One Direction-type boy band and marvelously channel it in a pseudo-music video, and extend the material beyond what audiences would expect or even want, churning out a blackly funny reality check in terms of how men ever-so-subtly (or not) dictate women's appearance. It's "Inside Amy Schumer," through and through.
The aesthetic of "Inside Amy Schumer" seamlessly meshes with the material being skewered. Her music video and TV show parodies feel so tonally on-point simply because there's a careful attention to detail, from Josh Charles' pitch-perfect appropriation of Kyle Chandler's "inspirational" talk-ups in "Friday Night Lights" to the startlingly precise cinematography of "12 Angry Men Inside Amy Schumer." From tone to performance to cinematography, that episode particularly is an exacting exercise in how to do a parody right. But yet again, Schumer pushes herself and the show into confrontational territory. If the Sidney Lumet film is a patient exploration of empathy and justice, then Schumer's version is an immediate undermining of male privilege and entitlement.
The entire case surrounds whether Amy Schumer is "hot" enough, with John Hawkes channeling an against-the-grain Henry Fonda and a host of thespians and comedians rounding out the jury room. There's no woman in sight. They argue over hotness and appearance, with Schumer making the big, fat elephant in the room clear from moment one: There's something deeply unsettling, and yet weirdly recognizable, about listening to a bunch of men arguing about the logistics of what women need to be told to do and, well, be.
In its imagery, there's a classy, dare I say highbrow element to "12 Angry Men Inside Amy Schumer." It's assembled with an evocation of prestige that Schumer is completely knowing about. Just look at the title — it's a direct meshing of a fine '50s film's title with a raunchy sex joke. The episode also has a lengthy, superbly-executed dildo joke, more visual than "Veep's" but no less appropriate or funny. It is, in its own, absurd way, a deconstruction of the institutional power of patriarchy.
From Lowbrow to Highbrow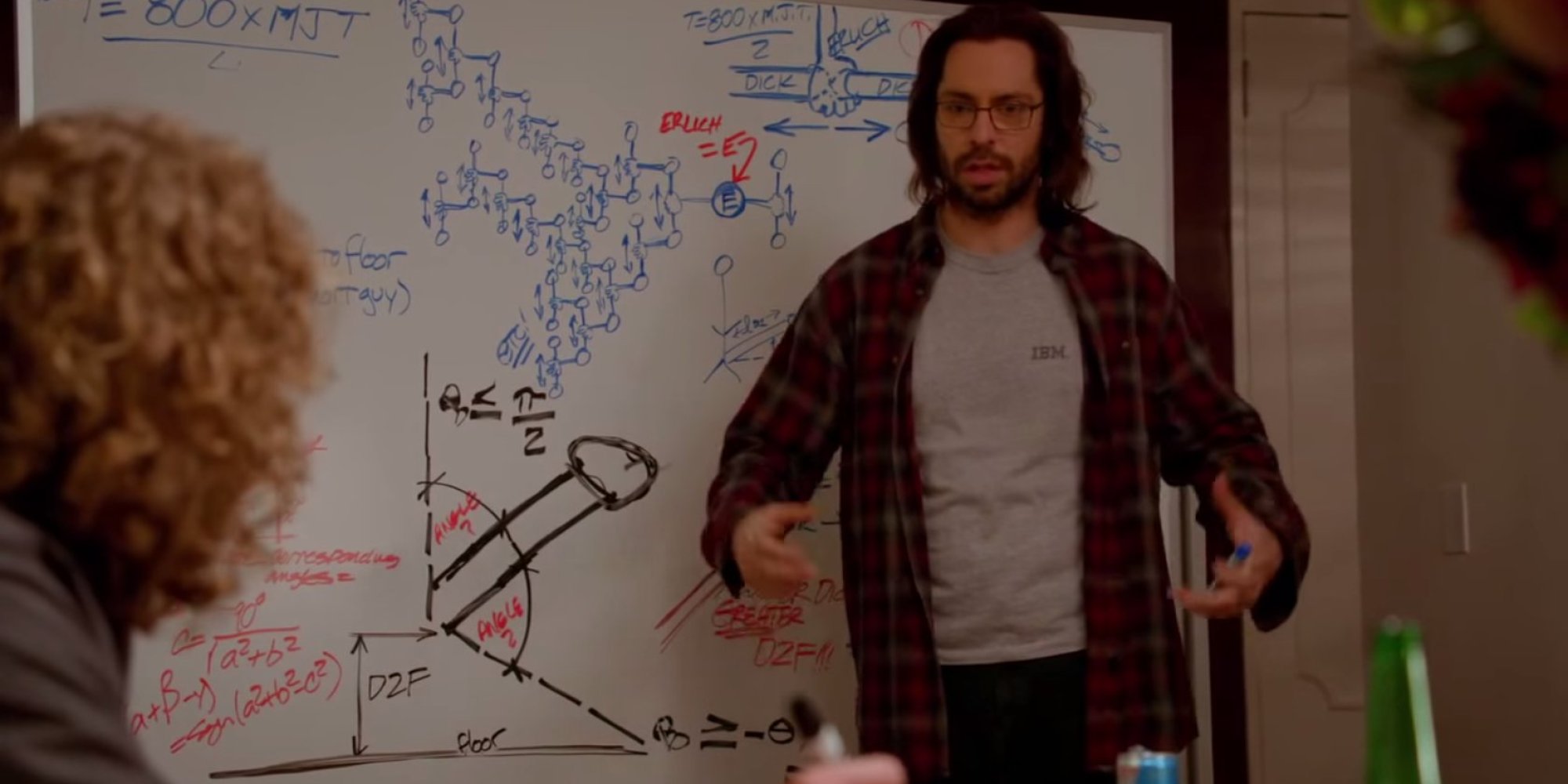 These series, together and individually, laugh in the face of these powerful institutions. "Veep" will end an episode of Selina interacting with "normals" on the sad, sad sight of the Vice President in a limo, unable to hold in her diarrhea before she makes it home. "Silicon Valley's" Season 1 finale, titled "Optimal Tip-to-Tip Efficiency," drew its name from a crassly inventive masturbation joke. And "Inside Amy Schumer"? Where to begin? It's one big "f— you" after another.
By dabbling in the lowbrow, these three series reverse the word's very meaning. "Veep's" profanity-ridden tirades have emerged as works of art worth marveling at. The same goes for the feminist sketch comedy of "Inside Amy Schumer," and the nerd-tinted empire tale that is "Silicon Valley." There's a subversive beauty to their methods. They're going somewhere uniquely important and fascinatingly contemporary, but the journey to that place is openly, confidently hilarious. And that's what comedy is all about.
READ MORE: Review: 'Veep' Season 4 Proves Holding Power Can Be as Hysterical as Craving It
Sign Up: Stay on top of the latest breaking film and TV news! Sign up for our Email Newsletters here.