The versatile and intensely-visual Guillermo del Toro is one of Mexico's most celebrated and lauded filmmakers. After breaking onto the scene with visceral, dark fantasy films such as "Cronos" and "The Devil's Backbone," he moved into commercial American moviemaking, directing "Blade 2" and generating acclaim for his two "Hellboy" efforts.
With lavish set pieces and a twisted sense of reality, del Toro has redefined the role of fantasy and magic in film. He's introduced a new kind of visual poetry, best exemplified in his internatonally-beloved "Pan's Labyrinth," but consistent across all of his films, from "Hellboy" to "Pacific Rim" to the upcoming star-studded "Crimson Peak."
Below, check out our five favorite films from the Oscar-nominated director.
"Cronos" (1993)
Del Toro's directorial debut perfectly showcases his strengths, style and artistic interests. In "Cronos," a mysterious device designed to provide its owner with eternal life resurfaces after 400 years, leaving a trail of destruction in its path. It's fashioned as a scary, luminously-lensed horror flick, one that balances its gore with wit and a beating heart. The film also marks the beginning of the longstanding collaborative relationship between del Toro and actors Federico Luppi and Ron Perlman. "Cronos" won countless prizes on the festival circuit, including one from Cannes, and affirmed del Toro as a fascinating new voice in global cinema.

"The Devil's Backbone" (2001)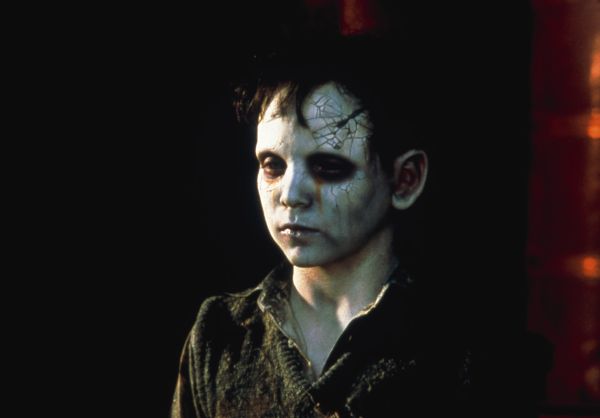 Often cited as his most personal and emotional film, "The Devil's Backbone" earned universal acclaim as the kind of war-minded film that only del Toro could pull off. The film centers on a 12-year-old boy who just lost his father in the Spanish Civil War. He's subsequently lured to a haunted orphanage, in which he must uncover long-buried secrets. The ghosts of the war both literally and figuratively populate this gorgeously-realized period piece, creating a poetically ethereal sensation. As both a moody genre piece and a despariring story of a childhood inalterably damaged by war, "The Devil's Backbone" is among the most affecting ghost stories you'll ever encounter.

"Hellboy" (2004)
After building a reputation for making small-scale, emotionally-resonant horror films, del Toro took the helm of first "Blade II" and then "Hellboy," a $66 million production that carried a lot of expectations. After earning mixed-to-positive praise for the "Blade" sequel, del Toro showed off what he could really do with a sizable budget with the monstrously entertaining "Hellboy." Ron Perlman stars as the titular demonic beast who operates in secret as a superhero. Aside from getting an iconic performnace out of Perlman, del Toro managed to maintain a bizarre energy and a dizzying romanticism, even with a hefty investment on the line.

"Pan's Labyrinth" (2006)
"Pan's Labyrinth" is del Toro's greatest cinematic accomplishment. Continuing the visual language and period considerations of "The Devil's Backbone," del Toro's celebrated fantasy romp delves into the aftermath of the Spanish Civil War, intertwining real life with a mythical fantasy land inhabited by an assortment of magical creatures. "Pan's Labyrinth" is a stunning visual journey, and it meshes dreamlike reality with a frightening fantasy world in a way that's enormously affeting. The end result is a brilliantly-conceived fable, achingly beautiful and brilliantly weird. The film netted del Toro a pair of Oscar nominations, and won Best Picture from the National Society of Film Critics.

"Pacific Rim" (2013)
It's getting harder and harder for big-budget blockbusters to stand out, a trend that seems irreversible at this point. But del Toro certainly injected some personality and specialized grandeur into the Hollywood spectacle with "Pacific Rim," a film of utter insanity, incomprehensible logic and breathtaking setpieces. Set in the not-too-distant future, del Toro's sci-fi epic finds Earth at war with a race of colossal monsters called the Kaujis, and in response, humanity creates giant humanoid robots to win the battle. It's a jarringly undisciplined piece of moviemaking, and yet that's all part of the fun. "Pacific Rim" goes crazier and weirder than the blockbuster machine normally allows, and so even if it's not del Toro's finest work, we're grateful to have it.
READ MORE: Guillermo del Toro Has Ryan Gosling Unpack the Secrets Behind 'Lost River'
[Indiewire has partnered with the El Rey Network in support of the iTunes release of their original show Director's Chair. The Director's Chair features candid, off-the-cuff conversations between filmmaking's most fascinating figures including Quentin Tarantino, Guillermo Del Toro, John Carpenter, and more. Get a sneak peek into the moviemaking process from the people who make your favorite flicks here.]
Sign Up: Stay on top of the latest breaking film and TV news! Sign up for our Email Newsletters here.