The Faun, "Pan's Labyrinth" (2006)
Del Toro's 2006 masterwork has an overflowing collection of memorable creatures, none more ambiguously striking as the Faun. With cold grey skin, the devilish horns of a goat and a body made of moss, vines and trees, the Faun (played by longtime creature collaborator Doug Jones) is a menacingly designed creature. As he navigates the protagonist Ofelia through a series of three tasks, it always remains ambiguous whether he is leading her to her fairy tale destiny or demise. The Faun seems at once tender and cold, trustworthy and traitorous, and his motives remain as enticingly worrisome and enchanting as that of Rumpelstiltskin.
The Pale Man, "Pan's Labyrinth" (2006)
The Faun may serve a more important narrative purpose in "Pan's Labyrinth," but the film's landmark creature is unquestionably the slimy, saggy Pale Man, once again played by Doug Jones. The creature arguably doesn't do much — he simply fidgets and hisses as he slowly chases Ofelia through his chamber — but his eerie physicality and the unforgettable placement of his eyeballs in the center of his palms creates a monster straight out of the darkest fables. Del Toro does much in the Pale Man scene to increase the tension — creating a ticking clock, slowly teasing that everything is bound to go south — and his direction goes miles in elevating the Pale Man to the pantheon of del Toro monsters.
The One Who Sighs, "The Devil's Backbone" (2001)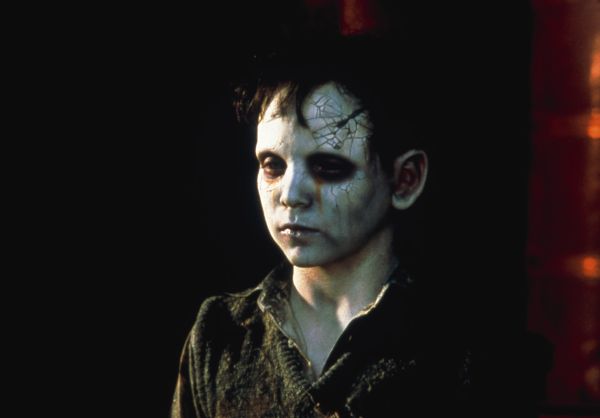 [/iw-photo]In del Toro's often horrific coming of age story, newly orphaned Carlos finds himself at a curious orphanage populated with adults whose motives are just as loaded as the undetonated bomb that lies in the center of the courtyard. Before he is able to settle in, Carlos is beset by "the one who sighs," a ghostly boy whose sickly white head is covered in flaking cracks and haloed in a cloud of floating blood. He looks tragically trapped in the moment of his death: Still enveloped by an invisible swirl of water with the wound on the top of his head still leaking fluid. Though certainly terrifying, with his greying skin and eyes, it's difficult to be too frightened of a child who looks less like a creepy spectre and more like a long waterlogged and damaged porcelain figure. Far more tragic than terrifying, del Toro's child ghost is an unsettling representation of the ravaging effects of war and a haunting image of innocence lost.
Ancient Bug Device, "Cronos" (1993)
This device from del Toro's first feature "Cronos" is not technically a monster but an animate, supernatural device that the director created as a new and innovative origin to the vampire mythos. When activated, the golden insect-shaped device latches onto its holder, drawing blood and transforming it into a concoction of its own making before letting go. This alchemical filtering process gives the user eternal life at the cost of developing an addictive taste for human blood. Del Toro includes one incredible shot of the inner workings of the device, with golden mechanical clockwork and one mysterious insect trapped inside the device acting as a filter. Del Toro originally wanted to do the shot with a miniature, but found it easier to just make a large scale version of the device's mechanics. This conveys a sense that the device is much larger from within than from without, adding to its eerie, supernatural quality. Del Toro turns a mechanical figurine into something that feels alive, powerful, and malevolent.
Vampires, "Blade II" (2002)
The stylish and intensely fun del Toro-directed "Blade 2" finds Blade against a new villain: The Reapers; a new breed of vampire with so much bloodlust they threaten to send the vampire and human population into extinction. In order to save humanity, Blade must put himself in league with the very vampires he's been sworn to kill in an attempt at survival. Not your mother's vampire, these blood-sucking freaks have ditched traditional fangs in favor of for a set of unhinging jaws that peel apart at the seam to reveal three (count 'em!) large sets of fangs and a many-toothed, parasitic mouth at the center. If the thought of being exsanguinated doesn't freak you out enough, del Toro makes sure that the wet, waggling flesh and quivering teeth will have you running for your life, or at least for the door.
Tooth Fairies, "Don't Be Afraid of the Dark" (2010)
Del Toro didn't direct "Don't Be Afraid of the Dark," but he did pen the script and is responsible for the malevolent, terrifying "tooth fairies." While director and comic book artist Troy Nixey certainly had a hand in bringing the horrific pixies to life, del Toro's trademark blend of occult horror and childhood trauma manifest here as well. In the 1973 made-for-TV movie, the goblin-esque creatures are set free by a curious newlywed moving into a Victorian mansion. By adding a child into the mix for his 2010 remake, and by giving the monsters a bizarre hunger for human teeth, del Toro infuses the story with a fear that feeds on our collective childhood experiences. What if the imaginary creatures we made up as children were more malicious than magical? Del Toro's monsters prey on this unsettling thought and more with their desire to capture their prey and turn them into a tooth fairy as well.
While 2013's "Pacific Rim" is full of the epic reptilian beasts known as kaiju, one stands apart from the crowd: Leatherback. The monster isn't the first kaiju the giant robotic jaegers fight, nor is it the last, but in Leatherback, del Toro manages to pay the most homage to the original kaiju, classic Japanese movie monsters. Equal parts Godzilla and Gamera, with a little King Kong thrown in for good measure, del Toro also manages a more demonic, scientifically plausible design, making Leatherback more awe-inspiring and intimidating than the Godzilla puppets that preceded him. In "Pacific Rim," del Toro is at his fanboy best in designing a monster that rampages just its ancestors, while adding a little bit of the director's own original flair.
Cockroach Monster, "Mimic" (1997)
While it certainly doesn't come from one of Del Toro's best movies, the Judas Bug from "Mimic" is nonetheless a gruesome horror creation. "Mimic," del Toro's second feature, is a film that lives in shadows and so does its monster, only popping into visibility for brief moments. Like any good monster, it's scarier when it's unseen than when it's seen. It's a classic creation of scientific hubris, a predatory bug designed to hunt down cockroaches that breeds out of control and begins to mimic its human predators. In its full visual form the Judas Bug suffers from visually dated computer effects, but in its design it's a classic B movie creation, a grotesque mix of human and insect. Looking even better than the monster itself are its alien looking egg sacs and the carcass of a dead bug that the protagonists investigate, both visceral masses of goop that almost radiate stench through the screen. As an early creatio,n the Judas Bug is not his best, but it is a great modern day interpretation of early B movie monsters.
Mr. Wink, "Hellboy II: The Golden Army" (2008)
Built like a tank and named like a teddy bear, Mr. Wink is a hulking seven foot tall troll with the build and face of a gorilla and the tusks of a boar, created by del Toro to be the dull but loyal henchmen to the villian, Prince Nuada. Wink is clumsy and monstrous compared to his master the lithe and elegant Nuada, making up for what he lacks in finesse with brute strength. His weapon of choice is a mechanical hand which he can shoot away and recall from a chain attached to his arm, or which can crawl spider-like back to its owner. Wink is remarkable because it's an entirely practical effect, standing 7'5" with an incredibly expressive animatronic mask. With his tangible weight and strength Wink is a real match for the rock-steady Hellboy, but there's enough nuance in its expressions that in his final moments the viewer finds sympathy for a simple creature wrapped up in a mess beyond his own scale.
The Angel of Death, "Hellboy II: The Golden Army" (2008)
The Angel of Death appears only briefly in the film, but he appears at an important crossroads. Part of the Hellboy mythology is that while Hellboy serves to protect humanity he will ultimately bring about its destruction, and at a point in the film where Hellboy is near death the Angel appears to offer a choice: Save him or let him die. The Angel of Death is reminiscent of del Toro's earlier creations from "Pan's Labyrinth," the Faun and the Pale Man, not least because all three are played by Doug Jones. The Angel of Death is skeletal and gothic with two sets of black wings coming out from a tattered robe, conveying an imposing presence that gives weight to his moral choice, while at the same time his breathy voice and wispy movements suggest an ancient frailty. Like the Pale Man, he lacks eyes where they should be, and the top half of his face is replaced by a bony plate while dozens of reptilian eyes adorn his wings. Although he is not on screen for long the Angel of Death leaves a lasting impression.
READ MORE: The 5 Best Films of Guillermo del Toro
Sign Up: Stay on top of the latest breaking film and TV news! Sign up for our Email Newsletters here.